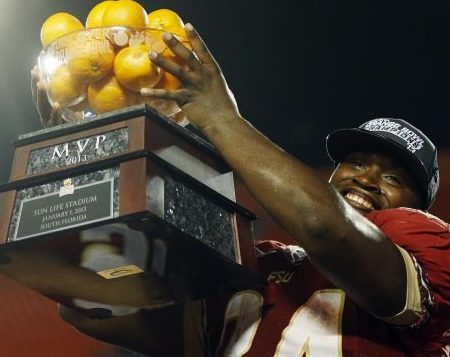 For the first time since the 1999 national championship season, the Florida State football team can boast of a Bowl Championship Series victory.
Thanks to its 31-10 triumph over Northern Illinois in the Orange Bowl early Wednesday morning, No. 12 FSU will also take with it back to Tallahassee 12 wins in a season for just the second time in program history.
The Seminoles didn't get to hoist a crystal ball like the only other time they won nearly a baker's dozen worth of games in a year but they also achieved another coveted accomplishment against the Huskies, who had won 12 straight prior to their trip to South Florida. After capturing a conference title for the first time since 2005 a month ago, FSU also exorcised its BCS demons in one citrusy-swoop at Sun Life Stadium.
Credit strong final-game performances by senior offensive starters EJ Manuel and Lonnie Pryor and a defense that was simply too big, too fast and too strong for NIU and do-it-all quarterback Jordan Lynch with this long-awaited streak-busting victory.
Manuel threw for 298 yards and one touchdown with no turnovers and became just the second quarterback in FBS history to win four straight bowl games, joining former West Virginia signal caller Pat White while Pryor rushed for a career-high 134 yards with scoring scampers of 60 and 37 yards in in the first and second halves, respectively.
For his efforts — and his 26.8 yards-per-carry average — Pryor was named the game's MVP.
"I always wanted to win MVP of a bowl game and I told myself every time I get the ball just try to make a big play and just do something," said Pryor, who carried the ball just five times. "I was blessed today. I can't believe it."
Lynch still might not be able to believe the defense he had to play against. Third in the nation in total offense and fourth in rushing entering the game, Lynch set the MAC on fire as a junior while leading his team to a conference championship but he hadn't seen a defense the caliber of FSU's all year long.
Lynch finished the game with just 44 yards rushing (well below his 136.23 yards-per-game average) and just 176 yards passing on 41 attempts. Most damaging, however, was the third-quarter interception he threw into the willing arms of 'Noles safety Terrence Brooks when his team was on verge of tying the game 17-17 following a surprise third-quarter onside kick.
The Huskies finished with just 259 yards of offense and just 10 points after accruing nearly 486 yards per game all season and nearly 41 points.
"I thought the defense played real well," said junior linebacker Christian Jones, who had 10 tackles. "We were prepared for them. We had a long time to prepare for them. We knew they had a good quarterback in Jordan Lynch holding him below what his usual stats are."
Vince Williams added 10 more tackles and a sack in his final game and Lamarc Joyner, who, like Jones, said he will take some time to make a decision about turning pro early or not, added six stops and a tackle for loss.
FSU finished with three sacks and five tackles for loss while holding the Huskies to a well-below-their-average 3.5 yards per play.
"Definitely the best defense we've played all year," Lynch said. "They were always in the right spot at the right time it seemed like."
Offensively,James Wilder, Jr. added 52 yards rushing and Kenny Shaw had six catches for 61 yards. Rashad Greene had 45 yards receiving and a score and Devonta Freeman and Greg Dent added 43 and 42 yards receiving, respectively.
Senior Rodney Smith had three catches and set the school record for consecutive games with at least one catch by doing so in his 39th straight contest.
In addition to Smith, the entire offense set its own school record. By registering 534 yards against NIU, the 2012 Seminoles finished the season with 6,591combined yards of offense — three more than the previous school record 6,588 yards the 2000 squad posted.
"What's amazing about this team on offense, there's seniors and juniors but there's more sophomores," FSU coach Jimbo Fisher said. "There's three offensive linemen, your tight end, your two tailbacks … Rashad Greene and [Kelvin] Benjamin and all those guys. There's a ton of young guys on this team. EJ and these seniors were able to grab those guys and pull them right back."
Florida State bounced back from a Nick O'Leary fumble that halted a strong offensive drive midway through the first quarter to start the game Tuesday night. After forcing NIU into its second three-and-out in as many drives to start the game, Pryor ran untouched for a career-long 60 yards and an FSU score that gave the Seminoles a 7-0 lead.
On the next drive, it looked like the Huskies would punt for a third consecutive time but a well-execute fake resulted in a 35-yard gain and field position in the redzone. Three plays later, the Florida State defense watched as NIU kicked a 25-yard field goal to cut it to a 7-3 score with 1:41 left in the first quarter.
Following back-to-back punts by both teams, FSU strung together another nice, long drive that ultimately ended in zero points again. On 4th-and-2 after Manuel was struck low near his right knee on a third-down play, Dustin Hopkins' 50-yard field goal attempt banged off the right upright. It was the senior's first miss of the season from a distance of at least 50 yards and preserved the one-score deficit for the Huskies with 11:48 remaining in the opening half.
The Hopkins miss would set the theme for nearly all of the second quarter for the 'Noles. Including the missed field-goal drive, FSU managed zero points on 19 combined plays for 92 yards on three consecutive possessions.
But after forcing the Huskies' sixth punt of the first half, Manuel found his groove — and his receivers — on the fourth drive of the quarter as he completed seven consecutive passes. None of them were more important than the six-yard toss he lobbed to Green in the back of the endzone that the sophomore grabbed while tapping one foot down in the black NIU paint to make it a 14-3 game with 11 seconds left before the break.
After that intermission — and a performance by FSU alum Jake Owen, FSU opened the third frame with a 68-yard drive that culminated with a short Hopkins field goal. The successful boot through the uprights by the gold-cleated senior was the 88th of his career, a new FBS record for made field goals in a career.
Backed up on his own goal line on the next drive, Lynch made his best play of the night up to that point by finding Akeem Daniels streaking down the sideline for a 55-yard catch and throw. Not only did the play get the Huskies off the goal line and down to the FSU 37-yard line but it was also NIU's first third-down conversion of the night following eight previously failed attempts. One play later, Lynch ran 22 yards for another first down and then found Martel Moore for an 11-yard score to trim FSU's lead to 17-10 with 9:55 still to go in the third quarter.
The Huskies had just 110 yards of offense before that scoring drive but rattled off 87 in just six plays on their first possession of the second half.
Flipping to the part of the playbook that has made "#MACtion" such a popular trending topic in social media, Northern Illinois followed up its touchdown drive by then recovering an onside kick. The play caught the 'Noles off guard but nine plays later after the Huskies had advanced to the FSU 23-yard line, Brooks was more than ready when he stepped in front of Lynch's third-and-eight pass attempt for his second interception of the year.
FSU couldn't score any points off the clutch takeaway, instead punting the ball deep into NIU territory and forcing a quick three-and-out. After taking over at their own 39-yard line, FSU benefitted from a personal foul penalty that extended what would have been a stalled drive on third down.
Six plays later, Manuel dashed nine yards on the first play of the fourth quarter for a touchdown that extended the Seminoles' lead to 24-10. That advantage then ballooned to 31-10 shortly after as Pryor rumbled 37 yards for the score on the heels of another NIU three-and-out midway through the final quarter.
"It's the first one we've won in 12 years," Fisher said. "I mean, 12 wins, first BCS game in 12 years, first ACC championship in seven. These seniors, I'm happy for our players. I'm extremely happy for our players for what they've sacrificed and what they've done and put Florida State back on the map, put them back in the top 10, won all and did the things they wanted to do, and when they came here where this program was and where they've brought it to, and I can't be prouder of them."