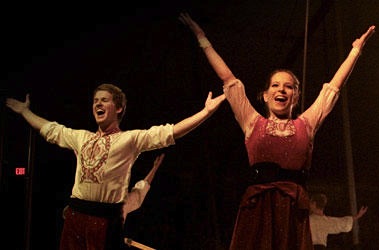 Florida State University is putting out the welcome mat as students' parents and other relatives prepare to visit campus for FSU's annual Parents' Weekend.
From the Flying High Circus on Friday to the football game on Saturday, there is a little something for everyone.
"Parents' Weekend is an opportunity for our students to show off their campus — their new friends, their new home, their new life — to their parents," said Mark Striffler, chairman of the Parents' Weekend Committee.
This year's activities will include the following:
FRIDAY, OCT. 12
President's Address to Parents: Florida State President Eric J. Barron will welcome parents and families to the FSU campus inOglesby Union's Moore Auditorium from 4 to 4:30 p.m.
Planetarium Tour and Movie: The newly upgraded Pat Thomas Planetarium features a 25-minute show using a state-of-the-art digital system. There will performances at noon, 1 p.m., 2 p.m. and 3 p.m.
Picnic on Oglesby Union Courtyard: Tickets are required for this event, which is taking place from 5 to 9 p.m.
The Flying High Circus: Three performances of the circus, representing the best of its spring and summer shows, will be offered at 5 p.m., 7 p.m. and 9 p.m. Tickets are required for all performances.
Movies on the Lot: The College of Motion Picture Arts will present its fifth annual outdoor screening of student short films from 8 to 10 p.m. on the green between the baseball and football stadiums.
Fridays at the Union: Cosmic bowling, billiards, and movies shown at the Student Life Cinema will be offered from 9 p.m. to 2 a.m.
SATURDAY, OCT. 13
5K Fun Run/Walk: Beginning at Oglesby Union, parents, students and the community are invited to participate in the 5K Fun Run/Walk, scheduled from 8 to 9:30 a.m. There is a registration fee.
Tailgate Buffet: The Oglesby Union Courtyard will be the site of a tailgate buffet from 8:15 to 11 a.m. Tickets are required.
Marching Chiefs Skull Session: Swing by Dick Howser Stadium for the band's pregame concert two hours before kickoff.
FSU vs. Boston College: Kickoff begins at 5:30 p.m. for the football game at Doak Campbell Stadium.
For more information, visit the Parents' Weekend Web page or call Oglesby Union at (850) 644-6860.