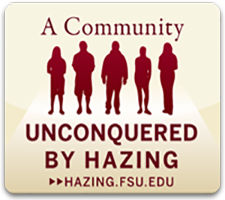 Hazing prevention isn't just for students anymore.
During Florida State University's 2012 Hazing Prevention Week, which continues through Saturday, Sept. 22, the Office of the Dean of Students and the university's Hazing Prevention Team are asking faculty and staff to join students in signing a Hazing-Free Community Pledge and report suspected incidents of hazing whenever they occur.
"To truly make Florida State into 'A Community Unconquered by Hazing,' we are asking all university employees to take this issue personally and sign the Hazing-Free Community Pledge," said Adam Goldstein, associate dean of students.
The pledge, which can be found at the university's hazing prevention website (http://hazing.fsu.edu), was recently revised so that all members of the university community can sign it, rather than students only.
The revised pledge incorporates the university's belief statement about hazing to broaden awareness and use of the statement. The statement reads, "At Florida State University, we believe students should not be demeaned or exposed to harm when pursuing involvement in campus life."
Finally, the revised pledge emphasizes four actions that individuals are encouraged to take: prevent hazing before it occurs; intervene to stop hazing when it is in progress; report hazing; and support others in the reporting of hazing.
Florida State's hazing prevention website features a form through which hazing can be reported, and general information and resources.
National Hazing Prevention Week takes place Sept. 24-28. To learn more, visit http://hazingprevention.org.