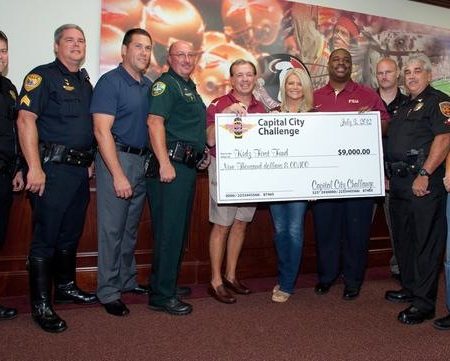 The executive board of the Capital City Challenge presented a check for $9,000 to Florida State Football Coach Jimbo Fisher and his wife, Candi, on July 17 on behalf of Kidz1stFund.The fund raises awareness and funds in support of research to fight Fanconi anemia, a rare but serious blood disease that affects thousands of children each year.
The Capital City Challenge is an annual police motorcycle training seminar and skills competition held outside Doak Campbell Stadium. During the event, law enforcement officers from around the Southeast compete for top honors in several categories by riding their law enforcement motorcycles through challenging obstacle courses. The event is run and hosted by the three local police motorcycle units: the Florida State University Police Department, the Tallahassee Police Department and the Leon County Sheriff's Office.
The Fishers began Kidz1stFund in 2011 to raise awareness and funds for Fanconi anemia research in the hope of finding a cure for their son, Ethan, and the thousands of other FA patients. The fund provides support to families affected by Fanconi anemia, provides education to raise awareness about the disease and raises money for Fanconi anemia research at the Fanconi Anemia Comprehensive Care Program at the University of Minnesota, the single largest treatment center for patients with Fanconi anemia in the country.