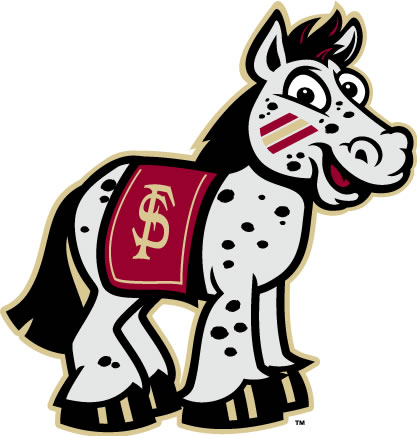 The Athletics Promotions and Marketing Office at Florida State University unveiled on April 26 the costume and logos associated with the revived character "Cimarron" that will be seen at Seminole athletic events.
Under the supervision of Florida State's cheer and spirit groups, Cimarron will make appearances at many FSU athletic events and functions. In addition, the character will make public appearances and will be available for functions at area schools and service projects. Cimarron will also serve as the mascot of the Florida State University Kid's Club. Fans can find officially licensed products bearing Cimarron's likeness at retailers soon.
"Osceola and Renegade are revered and honored symbols of Florida State athletics, as has been recognized by their recent selection as the best tradition in all of college football," said FSU Assistant Athletic Director of Marketing and Promotions Jason Dennard. "We treat our symbol with great honor and respect, and they appear only at football games, Homecoming and Fan Day. Cimarron has been revived to give a promotional presence at other designated events. It also allows us to participate in some opportunities that were not appropriate for the distinguished symbol of Osceola and Renegade."
Florida State commissioned the design and fabrication of Cimarron by Scollon Productions Inc. in the fall of 2011. Scollon has been the costume character designer and manufacturer of choice for many corporations worldwide, including Warner Brothers, Nickelodeon, Cartoon Network and more than 100 sports teams.
For more information, contact Associate Sports Information Director Bob Thomas at (850) 644-0615 or bthomas2@fsu.edu.