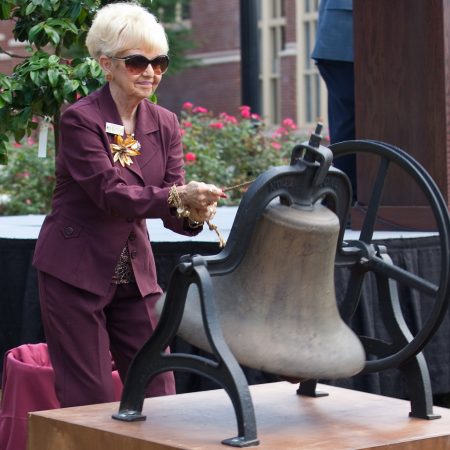 A green space adjacent to Florida State University's Westcott Building that is rich in university and local history was rededicated to Mina Joe Powell during a Heritage Day Celebration led by President Eric J. Barron on April 20. Powell played a huge role in the preservation of the space over the years, and was a member of the class of 1950.
"This is not just a mere green space. It serves a greater purpose — as a collection point for memories, a sacred place of tribute to friends no longer with us, a reminder to stop a moment and contemplate the beauty that is good for our souls," Barron said. "We should all be grateful to Mina Jo Powell for her determination, care and gift to us all."
In addition to Barron, others who took part in the ceremony included FSU alumna Betty Lou Joanos, chair of the Emeritus Alumni Society's board of directors, who rang a ceremonial bell that officially opened the Heritage Day Celebration; and 2012 Senior Class Council President Kimberly Siddle, who announced her class' donation of a memorial garden on the site. A crowd of approximately 150 people, many of them alumni of Florida State's Class of 1962 and earlier classes, were on hand to applaud the rededication.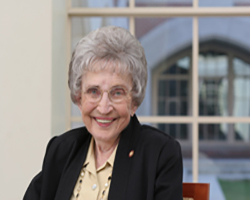 Following the rededication ceremony, tours of the historic William Johnston Building whose interior recently received an ultramodern makeover, and the new Heritage Museum located in Dodd Hall were offered.
Mina Jo Powell Green first received its name during a ceremony led by former Florida State President Bernie Sliger in 1991. Powell, a 1950 graduate of Florida State, had been a tireless advocate for preservation of this and other open spaces on campus. The green, once filled with camellia bushes, a goldfish pond and a sundial donated by previous graduating classes, was fenced off and used as a staging area from 2008 to 2010 while extensive renovations and construction took place at the Westcott Building and Ruby Diamond Concert Hall.
With that construction complete, Mina Jo Powell Green has been brought back to life with flowers and other landscaping, as well as marble benches and a statue of George Edgar, the first president of the Seminary West of the Suwannee River, an early predecessor of Florida State University.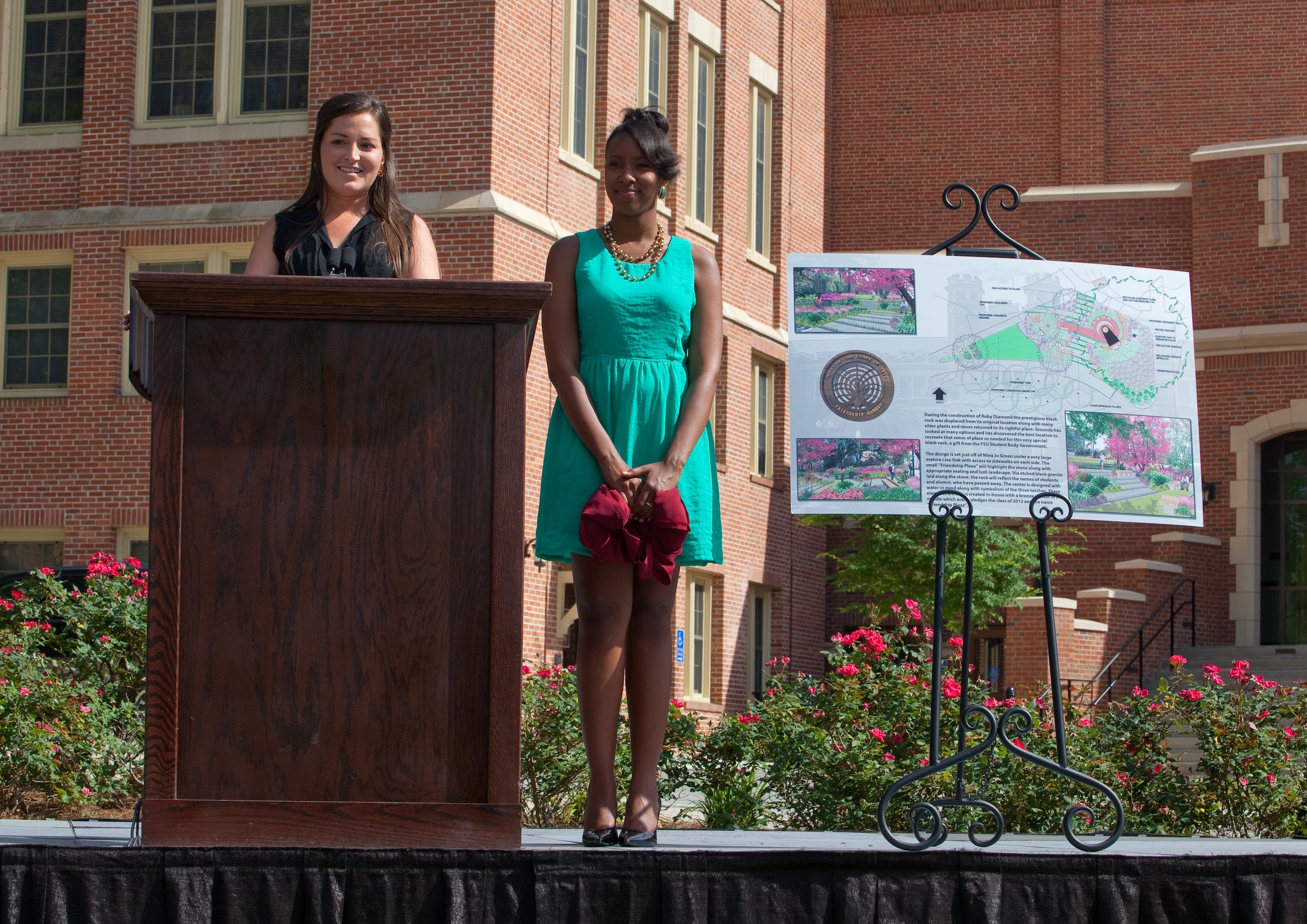 Mina Jo Powell Green has been a gathering place for students, faculty, staff and visitors to the Florida State University campus and its predecessors for more than 120 years. Commencement ceremonies were held on the site for approximately five decades, ending in 1950. And two small buildings that housed the State Normal College for Colored Students — the predecessor of Florida A&M University — are believed to have been located on the site from 1887 to 1891.
Following the rededication ceremony, alumni enjoyed tours of the Johnston Building and the Heritage Museum in Dodd Hall, where a pair of commemorative stained-glass windows were unveiled.
Read more about Mina Jo Powell here.
Visit the Florida State Heritage website to learn about Heritage Protocol, a university-wide initiative designed to preserve the history of Florida State University and its predecessor institutions.