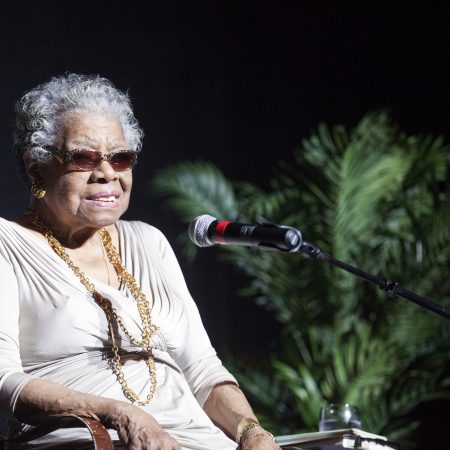 Famed poet Maya Angelou sat center stage, gave the crowd a wide, gentle grin and launched into a gospel tune.
"When it looked like the sun wasn't gonna shine anymore, God put a rainbow in the clouds," she sang.
Angelou spoke to an audience of nearly 5,000 people Saturday night at the Tallahassee-Leon County Civic Center. Her appearance marked the culmination of three days of events marking the 50th anniversary of integration at Florida State University.
The gospel lyrics, she said, applied to those trailblazing students who fearlessly pioneered the first years of desegregation.
"In the worst of times, the viewer can see a possibility of hope," she said. "That is what this institution has done and why I have come here today."
Her own life an example of perseverance in the face of adversity, Angelou inspired the audience and spoke of the importance of courage.
The ease with which Angelou read her poetry charmed the audience; her anecdotes frequently evoked laughter, as did a rhythmic recitation of Edgar Allan Poe's "The Raven."
"The way she expressed herself was incredible — the words she used and the poetry she read was inspiring," said audience member and Florida State student Sandy Simmons. "It makes me have a greater appreciation not only for integration but also for poetry."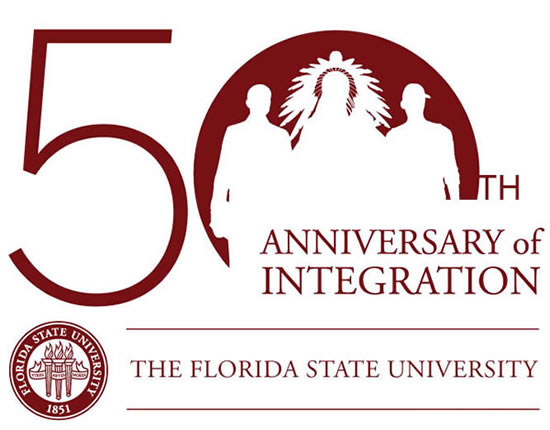 Angelou said she most wanted the students in attendance to know that they should be grateful for those who worked to ensure that people of all races could study at the same institution.
"Young men and women, it is important for you to know you have already been paid for," Angelou said. "All we really have to do is say, 'Thank you' — have an attitude of gratitude."
Angelou has published six autobiographies, five books of essays and numerous books of poetry, as well as a number of plays, screenplays and television scripts. In 2011, President Obama awarded her the highest civilian honor, the Presidential Medal of Freedom.
Florida State President Eric J. Barron said that it would be hard to imagine a more meaningful voice to remind Florida State that the struggle of 50 years ago was worth it.
"It is a tremendous honor to welcome her to Tallahassee and to Florida State University," he said in introducing her to the crowd. "She has always reminded us that true wisdom lies in realizing that you are forever on a journey, that there's a big difference between growing up and just aging — it doesn't matter whether you're an individual or an institution."
Angelou concluded with a stirring rendition of a poem she wrote for the 50th anniversary of the United Nations titled "A Brave and Startling Truth." She read in part:
When we come to it
We must confess that we are the possible
We are the miraculous, the true wonder of this world
That is when, and only when
We come to it.
"When each of us can say, 'I am willing to be a rainbow in somebody's cloud,'" she concluded.