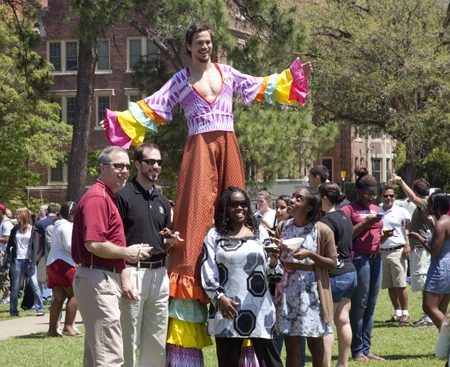 Thousands of Florida State University students, faculty and staff gathered on Landis Green in the middle of campus on April 12 to celebrate the annual President's Ice Cream Social.
President Eric J. Barron, vice presidents and other volunteers served free Edy's ice cream, cookies and Coca-Cola to everyone who came out to enjoy the beautiful Tallahassee weather. Dance circles formed around the DJ as students celebrated and took part in giant, inflatable obstacle courses and lawn games. Jugglers and acrobats from the Flying High Circus were also seen walking around entertaining people, as well as teaching some students how to juggle.
Barron said he loved walking around Landis Green and seeing all the smiles on the faces of students, faculty and staff.
"It's getting to be the end of the school year and everyone has worked hard, so this is a chance to go out and just have fun on such a beautiful day," he said. "And everything here is donated, and all from people who care about the university and want to make sure the students have a good time."
Freshman communication major Taryn Schmidt said that she could hear the music from her room in nearby Cawthon Hall and was excited to see what the event was about.
"I love how FSU students really come together to have a good time and celebrate how great our university is," Schmidt said. "I've never seen Landis so packed, and everyone looks like they're having a great time."
The President's Ice Cream Social was sponsored by Asker Distributors Inc., Edy's Grand Ice Cream, Coca-Cola, and Classic Fare Catering presented by Aramark.