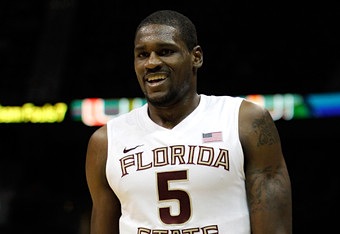 Bernard James, who helped lead Florida State University to its first-ever Atlantic Coast Conference championship in men's basketball, was presented with the Most Courageous Award by the United States Basketball Writers Association at its annual awards breakfast at the men's basketball Final Four. First presented in 1978, the Most Courageous Award has honored individuals in college basketball who have shown extraordinary courage in the face of adversity and provided an inspiration by overcoming a physical handicap or injury or living through a hardship.
James earned two varsity letters as a starter for the Seminoles after serving in the U.S. Air Force for six years (2003-2008). He made three tours of duty in Iraq, Qatar and Afghanistan. During the course of his service, James frequently performed his duties within 100 yards of falling bombs and mortars. His final mission came in August 2007 as a member of the Air Force Military Police, which assisted the U.S. Army in keeping watch on 22,000 detainees in southern Iraq.
In the years since his return from war, the military veteran played basketball at Tallahassee Community College before transferring to Florida State in 2010. During his first season with the Seminoles, he helped lead the Seminoles to the Sweet 16 of the NCAA Tournament.
James, who earned the rank of staff sergeant in the Air Force, was honored along with the legendary Pat Summitt, head coach of the University of Tennessee women's basketball team.
"I am honored and humbled to have won the Most Courageous Award from the USBWA," James said. "I am very proud of my accomplishments in the Air Force and at Florida State; both experiences have helped make me the man that I am today. For that I am thankful to all of the men and women who I served with in the Air Force, and to all of my teammates and the coaching staff at Florida State who allowed me to be part of a very special basketball program."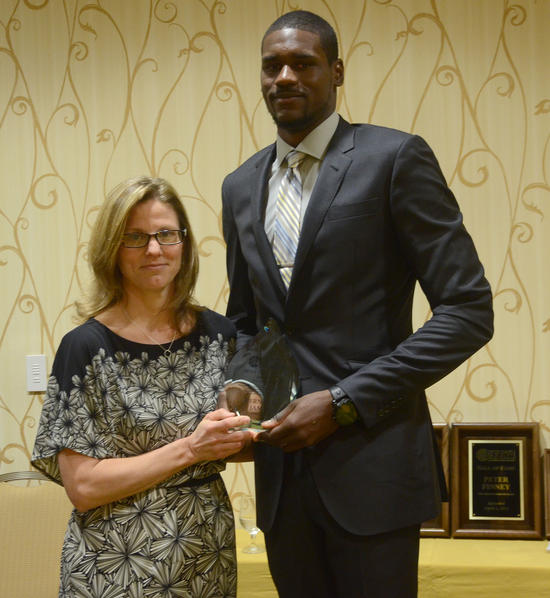 Florida State won its first-ever ACC Tournament championship with consecutive victories over No. 6 Duke and No. 4 North Carolina at the Philips Arena in Atlanta on March 10 and 11. The Seminoles' victories in the ACC Tournament allowed FSU to become only the second team in ACC history to earn four wins against top 10 ranked Duke and North Carolina teams in the same season. The Seminoles became the first team to accomplish that feat since the 1984-1985 Georgia Tech Yellow Jackets. The Seminoles also defeated then-No. 3 North Carolina (90-57, Jan. 14) and then No. 4 Duke (76-73, Jan. 21) in an eight-day span in vaulting to the top of the ACC standings for seven weeks during the regular season.
James led the Seminoles in rebounding (a career-high 8.1 rebounds per game) and blocked shots (2.3 blocks per game) while ranking second on the team in scoring (10.8 points per game). He earned All-ACC Honorable Mention, ACC All-Defensive and All-ACC Tournament Second Team honors as a senior.
James finished his career ranked first in school history with a 2.4-blocked-shots-per-game average, second in school history with a .627 field goal percentage and third in blocked shots with 164. In just two seasons he helped lead the Seminoles to 46 overall victories, 22 ACC victories, one ACC Tournament championship and two NCAA Tournament appearances.
Article and photos republished with permission from Seminoles.com.