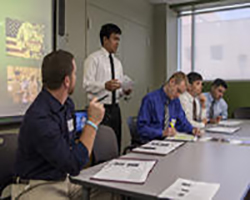 The transition from combat to the classroom can be difficult for student-veterans. A new sociology class for student-veterans at Florida State University is making headway in discovering the unique challenges they face, and how they manage those challenges, so their needs can be better served.
The student-veterans in the Veterans Research class are being taught research methods by interviewing other student-veterans about their collegiate experiences. Their findings will be used to enhance university policy as Florida State strives to become the nation's most veteran-friendly campus.
"There is a lot of research on veterans in general, but less is known about the collegiate experiences of student-veterans," said Doug Schrock, an associate professor of sociology who teaches the class. "The students are learning how to craft interview questions, recruit respondents, conduct interviews, analyze interview transcripts and present their findings."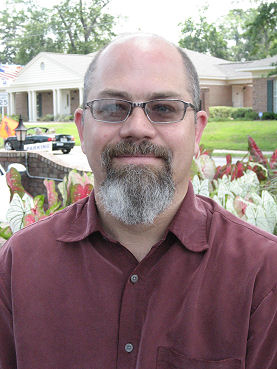 The students recently shared preliminary findings in three categories — transitioning into college, academic life and social life — at Florida State's 12th annual Undergraduate Research Symposium.
"Our preliminary findings make two contributions to research on student-veterans," said Phil Lennon, a Marine Corps veteran who is majoring in sociology. "They support other research that show student-veterans are motivated and goal-oriented but sometimes feel alienated and different from other students. They also illuminate how a significant number of hardships faced by student-veterans do not stem from the classroom but rather manifest themselves through the administrative interaction between the university, the federal G.I. Bill apparatus and ultimately the individual student-veteran."
The research suggests that student-veterans would benefit from a breakout session held especially for them during the university's new-student orientation. They also would benefit from the creation of a clearinghouse of information about local community support programs, as well as scholarships, internships and campus jobs.
The students will share their findings again during Florida State's inaugural Seminole Veterans Consortium, a campuswide meeting on the status of student-veterans. The consortium will take place May 30, from 9 a.m. to 2 p.m., on campus at the Turnbull Florida State Conference Center, 555. W. Pensacola St.
The first-of-its-kind class at Florida State also is the first research project funded by the Florida State Veterans Center, which was established in fall 2011. With a $1,000 grant from the center, Schrock purchased LiveScribe digital recording pens that the students are using to record their interviews.
Financial support from the College of Social Sciences and Public Policy has been a crucial element of the class because it has enabled the recorded interviews to be efficiently and professionally transcribed.
The students say they enjoy the camaraderie of the class and learning about other veterans' experiences, but they especially like the fact that their work may help future student-veterans.
"In this class we are working on something that is really meaningful and that can really have an impact," said Andrew Alvarez, a Navy veteran who is majoring in sociology and political science. Alvarez plans on pursuing a graduate degree in sociology after graduation.
"I learned from attending conferences of the Collegiate Veterans Association that veterans have a graduation rate that is about 50 percent lower than non-veterans," said Lennon, who also serves as the president of the FSU Collegiate Veterans Association. "It is my hope that the class that will help us find actionable ways to close that gap."