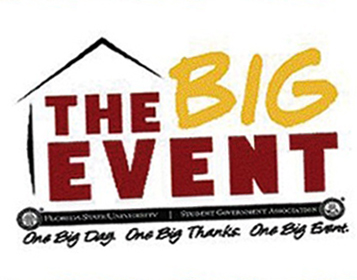 The paintbrushes are poised, the rakes stand ready, and the Windex is waiting. For the fourth year, Florida State University students — as well as faculty and staff members — will perform numerous service projects throughout Tallahassee during The Big Event, the flagship community-service project of the university's Student Government Association.
The service day, which will be held Saturday, March 24, is intended to express the student body's gratitude to the Tallahassee community for its support of FSU and promote unity between town and gown.
"We are so excited to be able to gather more than 1,000 Florida State students to volunteer for this single-day student service event," said Jack Tanenbaum, a political science major who is serving as director of The Big Event at Florida State. "These students are dedicating their Saturday morning to giving back to the Tallahassee area by performing community service throughout the region. It will truly be one big day, one big event, one big thanks to the community for everything Tallahassee provides for us."
Beginning at 8:30 a.m., students will begin gathering on the Oglesby Union Green to register for the day's activities. A 9:30 a.m. kick-off ceremony will be followed by a "tool distribution and send off" at 9:45 a.m. The students will perform the service work between 10 a.m. and 2 p.m. at 62 sites, including private residences; The Shelter, 480 W. Tennessee St.; the Second Harvest of the Big Bend, 110 Four Points Way; and the Preschool at Evening Rose, 3519 Easter Stanley Court.
Florida State's Big Event began in 2009 with approximately 300 students. In 2011, participation grew to more than 1,100 students. The event is modeled after The Big Event at Texas A&M University. Because several American universities have adopted it, The Big Event is believed to be the nation's largest single-day student service event.