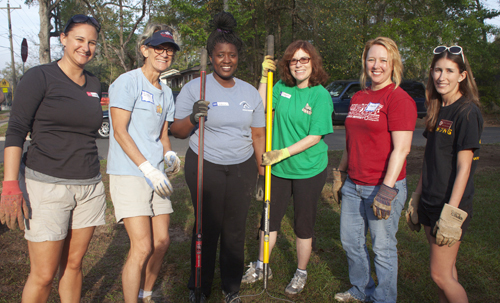 Valencia Davis stuck her shovel into the earth in her front yard, pushed down forcefully with one foot, and began to dig. Today, she was getting a brand new home and putting the finishing touches on her garden. Behind her, women from the Florida State University community were painting doors, laying sod, and planting flowers.
Davis participated in Hardhats and High Heels, an event sponsored by Habitat for Humanity that involves women working together to build homes for community members. The charming house on the corner of Ridgeway and Kelly Street was a pile of pipes and foundation only weeks before.
A Florida State employee who works in maintenance in the Department of Psychology, Davis was excited to see the women of FSU lending her a helping hand in creating the house from the ground up.
"To get the people that I work for help work for me with my home was exciting," said Davis, who was all smiles. "I think it's a blessing; I'm very excited to have these women work together to help me and my kids get a home and a yard for them to play in."
Davis said that once she moves into her new home, she plans on furthering her education at Florida State in the criminology program.
"It's been a great experience," she said. "I've met a lot of great people, and I've learned a lot."
Earlier in the day, Davis, a mother of two, had already helped the other volunteers lay grass, level the ground, paint and even help place shingles on the roof. FSU senior Amelia Edwards, grants coordinator for FSU Habitat for Humanity and coordinator of the Hardhats and High Heels event, was busy planting flowers in the front yard.
"I don't like dirt really," Edwards said, inspecting the oversized gloves she was wearing. "But when I come out to Habitat I just let that go because it's great for a day to come out and get dirty and do manual labor to help someone."
Edwards, who has been working closely with Hardhats and High Heels since it first began the year before, said she was ecstatic about the transformation of the site over the weeks the women gathered to build the house.
"It's really nice to see it all finished up because it started from nothing," Edwards said as she lifted her arm to wipe the sweat from her brow.
"It's great to see it go from nothing to everything."
She added that it was especially impressive that mostly women were running the project.
"It's great that it's women out here making a difference — and for a female homeowner, too," she said.
Provost Garnett S. Stokes also was busy working away in the garden, shaping the dirt around a freshly planted rose bush.
"I have always wanted to do something for Habitat for Humanity and I thought, 'what a perfect day,'" Stokes said. "What I've discovered is what a great group FSU Habitat for Humanity is. This particular event gets our women students to come out — as well as women from campus to come out — and really work together. I think it's something special."
Construction supervisor William Stone worked to oversee the construction and assist with the women.
Stone said that their efforts were going into building a home that met the stringent environmental standards of both Florida Green Energy Platinum and Energy Star.
"They're doing all of those things that are long-term durable and the house will use very little energy," said Stone, a graduate of Florida State.
Down the hall, Florida State student and member of the Florida State Habitat for Humanity e-board, Allene Korie was putting the finishing touches of the closet door she was painting inside the house. Korie said she was present the first day of building — and again at the end. She noted that even with the enormous amount of work it takes to build a house, it's rewarding to be side-by-side with women in the community.
"It's nice to have all women come out here," Korie said. "It's a good networking opportunity as well as a way to see how women are empowered and doing something in the community at Florida State University. I really enjoy that."
The house underwent one last day of work before the keys were turned over to Davis and her family. And the women of the Florida State community could not have been more proud.
"I'm really impressed with the people I've met here," Stokes said. "I suspect this is something that could get bigger every year because it just brings out so many from the faculty and the staff to join with students in trying to do something great for the Tallahassee community."