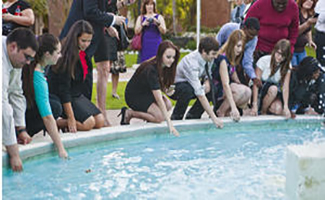 Florida State students and their families gathered in the Ruby Diamond Concert Hall on March 20 for the Class of 2012 Ring Ceremony. The time-honored Florida State tradition included a featured speaker — and something a little bit offbeat: Dipping the new college rings into the iconic Westcott fountain.
The ceremony included speeches as well as the FSU Men's Glee Club performing a stirring rendition of "The Alma Mater."
For a few minutes after the ceremony, parents and friends were able to admire the new gold bands inscribed with garnet FSU torches.
Senior Louis Puma was one of the students who had just received his ring.
"It's very exciting," Puma said. "As an FSU student, I'm looking forward to displaying the tradition of excellence with this ring."
Alexis Alvarez posed for pictures in front of the Westcott Plaza fountain with friends. She said that as soon as she heard about the ceremony she wanted to experience it before graduating.
"I heard it was a great tradition that I just wanted to be part of and go through myself," Alvarez said, admiring her new gold band. "It was amazing, and the ring is beautiful."
Students then gathered in a circle around the Westcott fountain as parents and friends stood behind them. They then dipped their new rings into the water.
Students waited until exactly 6:51 p.m. to baptize their rings, which in military time is 18:51, symbolic of the same year FSU was founded.
"The notion of dipping your ring into the fountain at military time for the year of the founding of the school — that's just fun," said President Eric J. Barron, who made an appearance at the event. "And even turning your ring over when you graduate so the torches face out is great. It's a good way to show Seminole pride."
Senior Valerie Crisostomo said the event made her realize just how close she is to graduating.
"This really does make me feel like 'wow,' there really are only 35 days left until graduation — I'm about to be finished, done," she said.
Crisostomo added that the ring she received today would forever remind her of the four years she spent being a Florida State Seminole.
"I think everyone should have the opportunity to participate because you start really thinking about what it means to be a Seminole, and you have the culmination of these four years on your finger," she said. "Every time I look down I'm going to remember what Florida State was to me."