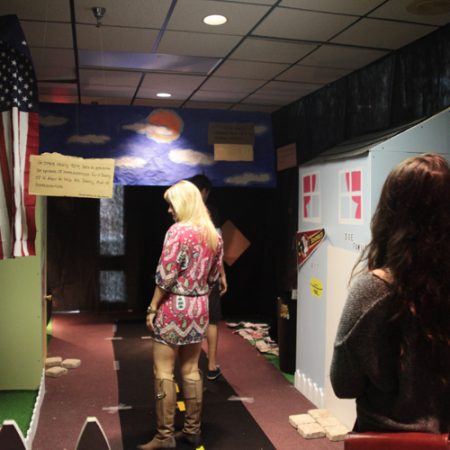 The tour was silent, but the images shouted.
Student tour guides recently led groups of students and community members on a hushed tour of five separate rooms in Florida State University's Oglesby Union Ballrooms — each decorated with intricate art, posters and multimedia that shed light on social injustice. And the art did what good art is sometimes supposed to do — it examined some disturbing, if not deeply emotional, issues: homelessness in Florida; bullying; college-age addiction; child soldiers; and the American correctional system.
A silent tour kicked off Florida State's fourth annual "Without Words," a museum-style exhibit aiming to promote awareness of social injustices. The goal of the week-long event was to get students to empathize with issues and spark discussion about them, said creative director and Florida State senior Niki White.
"We try to put the students in the shoes of these people facing these injustices and actually try to get these students to experience what they experience," White said.
"The point of it being silent is to increase the intensity. If you're not communicating with other people around you, you're starting to experience it in a different psychological manner. You can only mentally encapsulate it in your head."
Ultimately, White noted, she hopes that students walk away with the knowledge and understanding of the social injustices others face every day.
"What 'Without Words' does is open a door," she said. "If (students and the public) can have the education and the awareness about these issues and start talking about them, that's how we're going to effect positive sustainable change."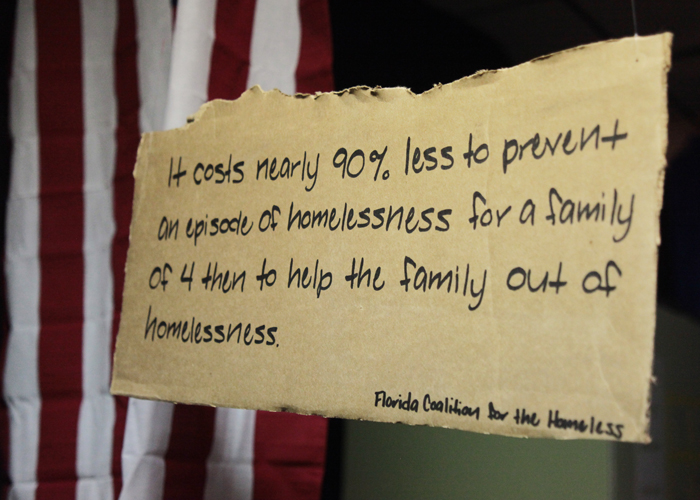 After the tour, visitors were invited to share their reactions on the exhibit with their tour group in a "reflection room." Melissa Beaudry, an FSU senior who toured with friends, said she was impressed by the detail and research that went into the creation of the exhibit's various rooms.
"Each had its own vibe; it was really well done," Beaudry said. "I liked the statistics because they gave me a good idea of what's happening locally and then worldwide."
For students involved in the nine-month process of creating the various "Without Words" rooms, the tour was deemed both successful and rewarding.
"The weekends before this event are stressful — they require a lot of heavy lifting and crafting. But the end process, I think, is definitely worth it," said Michelle Avaroma, a Florida State senior who has helped with the development of the exhibit since its start four years ago.
"To see a student impacted by a different room or issue brings up a lot of pride. That's what the program is for — so people can see what's really going on and then hopefully be motivated to work with these issues."
Nathan Bunch, a Florida State graduate-assistant adviser, added that students get more than they realize from "Without Words."
"I think one of the things that people often overlook is that not only do the students put in a significant amount of time to set the rooms up and design them, there's also a lot of learning being done," Bunch said. "A lot of the students are learning more about themselves, the issues, their inner passions and the why they connect passionately to the issues."
The "Without Words" exhibit was on display from Feb. 27 to March 2.