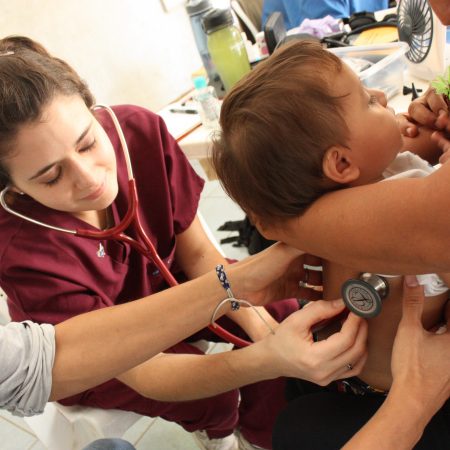 For many college students, spring break is a time to go to the beach or just take a well-earned rest from classes. However, a number of Florida State University students have very different plans: They will spend their spring break (March 5-9) volunteering and helping underserved communities.
Students from Florida State's Center for Leadership and Civic Education, the College of Medicine's Student Interest in Global Health (SIGH) program and the FSUCares program will travel around the United States and abroad to help others and to learn about the communities they're visiting.
Fifty-nine Florida State students have volunteered for alternative spring break programs through the Center for Leadership and Civic Education. On March 2-3, they will travel to six separate locations: Greenville, S.C.; Washington D.C.; Kiptopeke State Park in Virginia; Perryville, Ark.; Memphis, Tenn.; and San Salvador, El Salvador.
The students will work with local organizations to do a variety of community-enriching activities such as environmental clean-up, feeding the hungry, teaching young children, and painting and doing maintenance at a Salvadoran hospital.
"You can read about people who are facing all kinds of issues and problems, but as you go on with your day and get caught up in the chaos of your own daily life, these things slip to the back of your mind," said Erin Heffernan, the student in charge of setting up the alternative break sites. "But when you meet these people, when you spend time with them and form relationships with them — that changes everything. That is something that you will never forget."
Fifteen students from the College of Medicine, accompanied by three university physicians, will travel to Los Cedros, Nicaragua, on March 4 to give their time and services to residents of that city. The trip, which is sponsored by SIGH and headed by Professor Daniel Van Durme, M.D., is one of four yearly trips the program makes. Florida State will purchase medical supplies in Nicaragua, and the students and faculty will set up an ad hoc clinic. In the span of four or five days, the students will treat about 500 patients for a wide variety of medical conditions.
"In addition to it being an alternative spring break, we supply them with enough medicine to last until we come back," Van Durme said. "We visit four times a year, so this trip is just a piece of a much larger puzzle."
Another program within the College of Medicine is FSUCares. This year, as with every year since the college welcomed its first class in 2001, students will give out medical supplies and treatment — and receive a cultural education in return. FSUCares will go to the Texas-Mexico border, to Immokalee, Fla., and to the small village of Filipinas in Panama. In all three locations, they will provide medical treatment and health care instruments such as thermometers and first aid kits, as well as educate patients on personal health care.
The residents of these underserved communities, however, are not the only ones who benefit from such visits.
"We call it service learning, and it is a special kind of learning," said John Thomas, the president of FSUCares. "You are serving someone and helping them, and it's obvious they need your help. You are also learning from the patients as you provide them service. It is both parties helping each other."