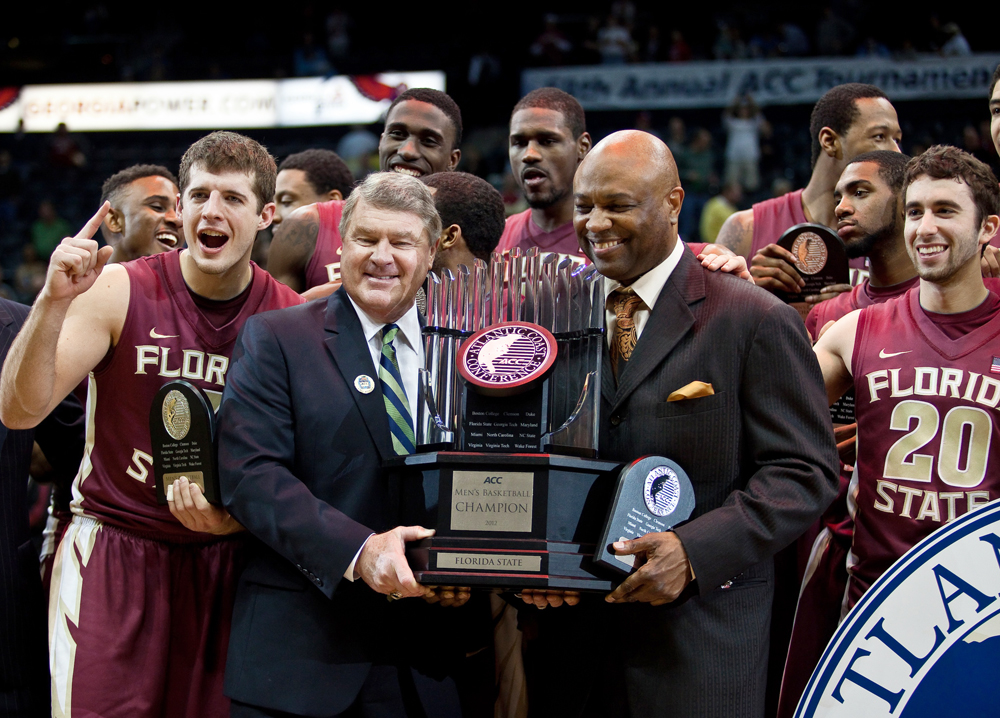 Believe it or not, Leonard Hamilton isn't as stoic as he may seem.
So when his Florida State men's basketball program won the first Atlantic Coast Conference Championship in school history, as it did March 11 in Atlanta, and the Seminoles head coach methodically raised an arm in celebration as his players jumped and swarmed at midcourt, just know that there's a lot more going on beneath the surface.
"I enjoyed it, but I was happy for them," Hamilton said outside FSU's locker room after the confetti had fallen and the net had been cut at Philips Arena. "Fortunately for me, I have been one of the most blessed individuals in life. I've been around a lot of success, been at a lot of great programs, a lot of great teams. What's more important to me is that this team enjoys this and the players enjoy it for all their hard work.
"I've been in this position many, many times, but it's more important to me that they have these moments that they enjoy."
Hamilton's intense in-game and post-game focus may carry over to his persistence that his players enjoy a program-defining moment, but its those same players are just as quick to pass the glory back to their head coach because of the rebuilding process he has overseen.After taking over the program in 2002 and working through five of six years with losing conference records, Hamilton guided FSU to its first-ever ACC Championship Game appearance in 2009. The Seminoles lost that game to Duke, but Hamilton's blueprint for success began to take shape.
Three years, three NCAA Tournament appearances and a Sweet 16 berth later, Hamilton's 2011-2012 Seminoles did something that had never been done before — an accomplishment that not only propels Florida State into a No. 3 seed in the NCAA Tournament but completely changes the perception of the school as a second-class citizen in the UNC and Duke-dominated ACC.
"It's just a tremendous accomplishment for Coach Ham with everything that he has done to turn the program around," senior guard Luke Loucks said. "There were a rough few years when he first started, but he has never lost hope and never deviated from his plan. Just to see him take this program and turn it into one of the nation's elite is great to see.
"He deserves it, and even though he won't show it, I know he is excited about what we have done."
What FSU has done this year is not just capture a conference crown but also add another chapter to what has been something out of an ACC storybook.
Related Links
Reeling after a league-opening loss at Clemson, the Seminoles famously regrouped and retaliated and showed the same determination as their head coach in winning a school-record seven consecutive ACC games from January to February. The Seminoles would go on to tie the program record for most ACC wins in a season with 12 before adding a bow to its postseason resume with a shiny new championship trophy.
All the while, Hamilton has been there coaching, teaching and guiding. Then on March 11, watching as his players celebrated and his program officially took that "next step" he always planned for it to take.
Stoic expression and all.
"It feels really good just to be part of a team that brought him his first ACC Championship," senior center Bernard James said. "Things just worked out perfectly how it's supposed to. I know he is so proud of us, and we are so proud of him.
"He's a great coach, and we love him."
Article, photos and video republished with permission from Seminoles.com.