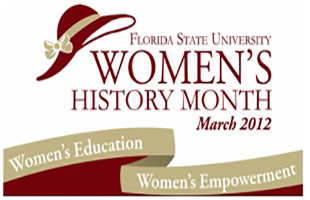 March is Women's History Month, and Florida State University has planned a myriad of events to celebrate this year's theme of "Women's Education, Women's Empowerment." A book club, film screening and legacy reception are among the events.
"Women's History Month at Florida State represents the accomplishments of women to our university, especially as we honor our founding history as Florida State College for Women," said Vice President for Student Affairs Mary Coburn. "In our fifth year now, a university-wide committee has come together to schedule many events to honor, promote, educate and empower women."
The celebration of Women's History Month began on Feb. 27 with the introduction of "Reading Lolita in Tehran," the chosen book for this year's book club. The first 20 students who registered received a free copy of the book. The book discussion, which is co-sponsored by FSU University Libraries and the Center for Global Engagement, will take place at 6 p.m. on Monday, March 26 in Strozier Library.
Hosted by the Student Government Association's Women's Center, the Vagina Monologues will be performed in Moore Auditorium at 7 p.m. on Friday, March 16, and Saturday, March 17.
The film "Miss Representation" will be screened at the Askew Student Life Center's (SLC) main theater at 8 p.m. on Monday, March 19. A panel discussion featuring Valdosta State University College of Education Professor and a visiting Adjunct Professor in the FSU Department of Women's Studies Professor Rachel Pienta; School of Communication Associate Professor Jennifer Proffitt; College of Visual Arts, Theatre and Dance Adjunct Instructor Sara Howard; Department of English graduate teaching assistant Elizabeth Polcha; and WCTV reporter Lanetra Bennett will immediately follow. Additional showings of the film, which explores the under-representation of women in positions of power and influence in America, will take place at 8 p.m. on Thursday, March 22, and Friday, March 23, in the SLC Phantom Theater.
On Wednesday, March 21, "Love Your Body" day will take place on Landis Green from 1 to 3 p.m. The event, hosted by Campus Recreation, the University Counseling Center and Thagard Student Health Center, will encourage women to come together to celebrate self-acceptance and promote positive body image.
A ladies' legacy reception, hosted by the Student Government Association's Women's Center and the Florida State Alumni Association, will take place at 6:30 p.m. on Tuesday, March 27, in the Alumni Center Ballroom. Former Associate Vice President for Student Affairs Sherill Ragans will be the speaker. Reservations are required and can be made at women.fsu.edu.
Rounding out the month's events, a PeaceJam public talk will take place at the Augustus B. Turnbull III Florida State Conference Center at 6 p.m. on Friday, March 30. The talk, featuring Nobel Laureate Jody Williams, is hosted by PeaceJam Southeast and the Center for Leadership and Civic Education.
"Any member of our community is welcome to join us at the events throughout March as we continue celebrating women and their successes at Florida State," Coburn said.
For a complete schedule of events, visit http://www.women.fsu.edu/events.html. For more information, contact Ladanya Ramirez Surmeier of the Oglesby Union at (850) 645-7165 or lramirez2@admin.fsu.edu.