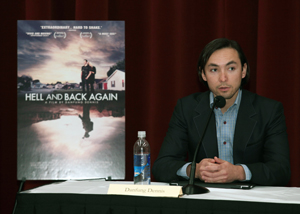 On Friday, Nov. 11 — Veterans Day — Florida State University launched the first annual Student Veteran Film Festival with the screening of a powerful new documentary, "Hell and Back Again," directed by photojournalist Danfung Dennis. The highly acclaimed film vividly captures the sacrifices, both on and off the battlefield, that U.S. servicemen and women, as well as their families, often must make in times of war.
Dennis, executive producer Karol Martesko-Fenster, and Marine Sgt. Nathan Harris and his wife, Ashley — the latter two the main subjects of the film — all attended the screening at FSU's Ruby Diamond Concert Hall. An audience of nearly 1,000 people also viewed the film, which is generating considerable media buzz, having won both a Grand Jury Award for Documentary and a Cinematography Award at the 2011 Sundance Film Festival.
"Hell and Back Again" offers an up-close, bullets-whizzing-by portrayal of a group of Marines fighting on the front lines in Afghanistan, as well as the difficult road to recovery faced back home by one of those Marines, Sgt. Harris, after he is wounded in action.
"It's a film that's very raw and true," Harris told news media shortly before the screening at Florida State. "It's very important that people see that."
After being severely wounded and sent home home to North Carolina, Harris and his wife opened their private lives to Dennis and allowed him to film their daily experiences in dealing with Nathan's devastating injury.
"It's a story about Sgt. Harris and his wife, Ashley, and what it means to go to war and come home from it, in a very human way," Dennis said. He added that the footage he captured in Afghanistan and back in the United States showed him that "the experience of war isn't simply what happens on the battlefield. It's as much about coming home from war. And so it's a story about that transition back into a society that has very little understanding of what it's like to go to war."
The idea for establishing a film festival devoted to veterans' issues at Florida State was born this past spring, thanks in part to "a bunch of crazy students with an idea," said FSU student Jared Lyon, president of the Florida State chapter of the Collegiate Veterans Association and a military veteran himself. (Lyon served in the Navy as a submariner and diver on multiple deployments around the world from 2001 to 2005.) Those students' discussions coalesced into what would eventually become the Student Veteran Film Festival — the first of its kind in the United States.
"We wanted to come up with a creative way to bring attention to student-veteran issues at Florida State while educating our faculty, staff and student body alike," Lyon said at a media event held prior to the screening of "Hell and Back Again." Lyon pitched the idea of a film festival focusing on veterans' issues to Frank Patterson, dean of FSU's College of Motion Picture Arts.
Patterson was quickly sold on the idea — in part due to the passion with which Lyon presented it — and agreed to offer up the support of his college in getting the new festival off the ground.
"Jared came into my office and said, 'We want to start a film festival,' Patterson said. "You know, that's not the sort of thing we get every day. But he was so bright and so direct and so committed that there was no way we would not want to get involved."
The university's Interfraternity Council soon agreed to partner with the Collegiate Veterans Association and College of Motion Picture Arts, and with that, an idea that had originated with a "crazy group of students" became a reality.
A major goal of the Student Veteran Film Festival is to raise awareness of student-veterans' issues and to support the establishment of the newly announced FSU Veterans' Center. The screening of "Hell and Back Again," whose proceeds will directly benefit the center, will set the stage for what will become a multifilm festival in future years.
"We wanted to create an event that was as entertaining as it was educational," Interfraternity Council President David Ward said. "Our student-veterans contribute so much to our campus community, and it's our duty both as citizens and Seminoles to raise funds and awareness for this great cause. We couldn't be happier to help make this landmark event come to life."
Working with Patterson and Paul Cohen, director of FSU's Torchlight Program, the students were able to secure the rights to screen the newly released documentary for the inaugural event.
"When we saw 'Hell and Back Again' at the Sundance Film Festival, where it won the World Cinema Grand Jury Prize, we knew then that we needed to bring it to Florida State," Patterson said. "I can't think of a better venue to screen Danfung Dennis' stunning documentary than the inaugural Student Veteran Film Festival."
In addition to the film screen, a ribbon-cutting ceremony to mark the official opening of the FSU Veterans Center was scheduled to take place on Saturday morning at the center's interim location, the Pearl Tyner House at the FSU Alumni Center (1030 W. Tennessee St., Tallahassee).
Also on Friday, Barron announced that Air Force Col. William "Billy" Francis will be the first director of the Veterans Center. He will be responsible for recruiting veterans who want to transition from military service to college life; support veterans by coordinating services; and promote awareness of Florida State's veteran heritage and current issues facing student-veterans. In addition, Francis will promote Florida State's veteran-friendly initiatives nationally.
Read more about Francis' appointment here.
On Saturday, Nov. 12, a ribbon-cutting ceremony was held at the Pearl Tyner Welcome Center at the FSU Alumni Association complex. The facility will be the temporary location of a new Florida State Veterans House until a permanent facility can be built. Read more about plans for the the Veterans House here.