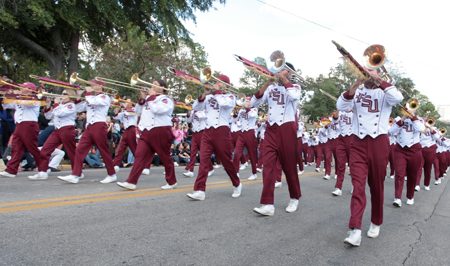 Homecoming at Florida State University has always been an exciting time for returning alumni to join current students in celebration of an extraordinary institution and its unconquered spirit. Homecoming 2011 aims to keep that spirited tradition alive and well.
This year, the weeklong slate of Homecoming events will begin with a community service-themed 5K Run/Walk on Sunday, Nov. 13, and culminate on Saturday, Nov. 19, at the Homecoming game when the Florida State Seminoles take on the University of Virginia Cavaliers at Doak Campbell Stadium. (A kickoff time announcement is expected by Nov. 13.)
"Seminole State of Mind" is the Homecoming 2011 theme. Among the Homecoming Week highlights:
Homecoming Parade:
As always, game day is preceded by Friday afternoon's Homecoming Parade (view the route map here), which is scheduled to start rolling at 2 p.m. on Nov. 18. Everyone is invited to watch the parade's customary colorful array of floats from more than 100 campus organizations and community groups. On hand will be Osceola and Renegade, FSU cheerleaders, the Marching Chiefs, and the candidates for Homecoming Chief and Princess.
This year's Parade Grand Marshal, Gene Deckerhoff, is instantly recognizable to sports fans statewide. He has been calling FSU football games since 1979 and FSU basketball games since 1974, and is one of only four announcers ever inducted into the Florida Sports Hall of Fame. Joining Deckerhoff will be the parade's 2011 Faculty Marshal — FSU School of Dance Artist-in-Residence, Jawole Willa Jo Zollar. The university's 2011-2012 Robert O. Lawton Distinguished Professor, Zollar is a celebrated choreographer and the founding and artistic director of internationally renowned New York dance company Urban Bush Women.
FSU Alumni Association Homecoming Awards Breakfast: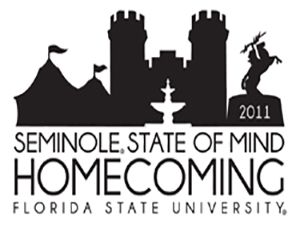 On game day, the Alumni Association will bestow a plethora of awards on an esteemed group of individuals at its annual Homecoming Awards Breakfast. The Nov. 19 breakfast will be held in the Alumni Center Grand Ballroom (1030 W. Tennessee St., Tallahassee). Doors open at 8:30 a.m., and the awards program will commence at 9. Tickets are required ($15 per person) and must be purchased in advance by Thursday, Nov. 10. To purchase tickets online, visit the Alumni Association website. For additional information and assistance, contact Whitney Powers of the Alumni Association, (850) 645-9530 or wpowers@fsu.edu.
Student-led Homecoming activities featuring service to the community:
The 11th Annual FSUCaresHomecoming 5K Run/Walk on Sunday, Nov. 13, promises to be a high-energy reminder that service to the community is a recurring Homecoming theme at Florida State. The run/walk will begin at 9 a.m. at the FSU College of Medicine, which is co-hosting the event with FSUCares. Alumni, students and the general public are encouraged to participate. All proceeds go to FSUCares' medical philanthropic efforts. Online registration is available here.
The celebration continues into the night on Nov. 13 with Warchant, scheduled to begin at 7 p.m. on Langford Green. Performing this year: musician Citizen Cope. The concert is free, but each attendee is asked to bring an item of gently used or new clothing for the Student Alumni Association clothing drive, which will benefit the Salvation Army and Lighthouse Children's Home.
Community service continues on Thursday, Nov. 17, with Renegade Recess, slated to begin at 3 p.m. in the Oglesby Union ballrooms. FSU students will supervise playtime fun, including numerous circus-themed booth activities, for about 150 elementary school-age students from the local Boys and Girls Club.
Also on the roster of student-led events:
Spear-It Night Talent Competition (7 p.m. Monday, Nov. 14; Union Ballrooms)
Skit Night (7 p.m. Tuesday, Nov. 15; The Moon, 1105 E. Lafayette St.)
Seminole Festival (11 a.m.–4 p.m. Wednesday, Nov. 16; Union Green)
Seminole Showdown (7 p.m. Wednesday, Nov. 16; Moore Auditorium)
Pow Wow (7 p.m. Friday, Nov. 18; Tallahassee-Leon County Civic Center)
For a complete schedule of student-led events, click here. For the names and contact information of the event leaders, or contact Allison Black, FSU's staff adviser for student Homecoming events, at (850) 645-7364 or asblack@admin.fsu.edu.
Among the Alumni Association's Homecoming festivities (in addition to Awards Breakfast):
Alumni Association Open House (5-7 p.m. Friday, Nov. 18; FSU Alumni Center Courtyard)
All-College Alumni Tailgate (begins four hours before kickoff on Saturday, Nov. 19; President's House backyard; hosted by FSU President Eric Barron and his wife, Molly)
A complete list of Alumni Association-sponsored Homecoming events can be found here. Questions? Contact Whitney Powers of the FSU Alumni Association at (850) 645-9530 or wpowers@admin.fsu.edu.
Homecoming Week also celebrates FSU faculty and staff:
Faculty and Staff Reception (4:30-6 p.m. Thursday, Nov. 17; Miller Hall, University Center C): All FSU faculty and staff are invited to attend the reception, which honors the contributions they make to the university community. RSVP to James Maloney, Homecoming director of university outreach, at jpm09e@fsu.edu.
Other 2011 Homecoming events:
For a map of the FSU campus, click here.
For more information on Homecoming, contact Allison Black, staff adviser for Homecoming events, at (850) 645-7364 or asblack@admin.fsu.edu; Whitney Powers of the FSU Alumni Association at (850) 645-9530 or wpowers@admin.fsu.edu; or the Student Homecoming Executive Council at 850) 644-9166 or sgahomecoming@admin.fsu.edu.