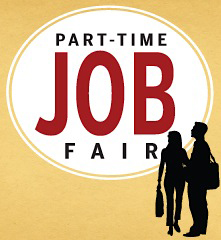 Florida State University students are invited to participate in the 2012 Spring Part-Time Job Fair, which the FSU Career Center and the Greater Tallahassee Chamber of Commerce will co-host on Thursday, Jan. 12, from 10 a.m. to 2 p.m. in the Oglesby Union Ballrooms on the FSU campus. Students and participating employers will have the opportunity to meet face-to-face to discuss present and future part-time job openings.
The annual Spring Part-Time Job Fair –– which drew more than 1,200 job seekers last year –– aims to boost student awareness about the part-time, temporary and seasonal job opportunities available in the area.
Admission is free for students. Employers must register in advance. Information and registration forms for employers can be accessed here on the FSU Career Center website.
The 2012 Spring Part-Time Job Fair will be held:
THURSDAY, JAN. 12
10 A.M. – 2 P.M.
FLORIDA STATE UNIVERSITY
TALLAHASSEE
Questions? Contact Juliette McDonald, FSU Career Center program director for Experiential Learning, at jlmcdonald@fsu.edu, (850) 644-9774 or (850) 645-6516.