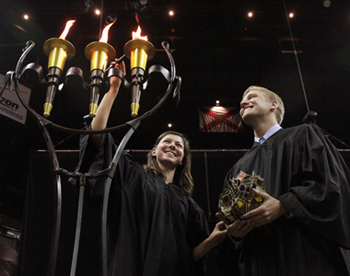 Florida State freshmen, take note: Not having it all figured out just may well be the best approach to college.
That was the message award-winning science writer Rebecca Skloot delivered to Florida State University's Class of 2015 during New Student Convocation held on Sunday, Aug. 28, at the Tallahassee-Leon County Civic Center. The annual event officially welcomes first-year students into the university's community of scholars and introduces them to the university's history and traditions on the eve of the first day of the fall semester.
"I hope you'll let your passion and curiosity get the best of you while you're here," Skloot said. "Sign up for classes that catch your eye. If you read something that fills you with questions, or if a teacher says something that grabs you, follow it. Don't accept simple answers like 'I don't know,' and never be afraid to ask hard questions."
Skloot, the author of "The Immortal Life of Henrietta Lacks," was the keynote speaker at the hour-long ceremony. Skloot's New York Times bestseller was chosen as the 2011 One Book/One Campus summer reading for all of FSU's incoming first-year students and has already stimulated discussions on campus about important issues related to medicine, research and ethics. Skloot also met with students and faculty following the Convocation in a special question-and-answer period held in Ruby Diamond Concert Hall.
About 5,000 of the approximately 6,100-member freshman class attended the hour-long ceremony. The most academically accomplished freshman class in at least 30 years, members of the Class of 2015 are among nearly 41,000 students who will begin classes on Monday, Aug. 29.
FSU President Eric J. Barron welcomed the new students and introduced Provost and Executive Vice President for Academic Affairs Garnett S. Stokes, who delivered the opening remarks and, later in the ceremony, the charge to the Class of 2015.
Following the ceremony, thousands of new students joined Barron and his wife, Molly, at their home for the President's Backyard BBQ, which featured free food and entertainment. Sponsored by the Student Alumni Association, Seminole Dining served up more than 1,200 pounds of barbecue beef, 600 pounds of green beans and 200 pounds of chicken, along with snow cones and other tasty treats.
Decked out in T-shirts in an array of colors to represent the university's 16 colleges, the freshmen found it easy to meet their new classmates at the Convocation and barbecue.
"You instantly have an opportunity to find someone who is thinking about the future in the same way that you are thinking about the future," said Barron, who initiated the colored T-shirts last year for that very reason.
Serina Hull, a freshman exploratory student from Weston, Fla., said events such as the Convocation and the President's Backyard BBQ were helping to keep any anxiety about starting college at bay.
"Florida State keeps you really busy, especially if you have people to do things with," she said. She met new friends Rafaela Pereira and Alexandria Gaffney earlier this week in her residence hall, Kellum, and later discovered that they were all exploratory students — easily identifiable by the white T-shirts they wore to Sunday's events.
"Any chance to meet people" was the reason freshman Chris King of Orlando cited for attending Sunday's events, while sporting his black T-shirt to represent the College of Business.
Before concluding the Convocation, Dean of Undergraduate Studies Karen Laughlin called upon students to commit to live by the values embodied in the torches on the university seal. Four upper-class students passed torches representing Vires (strength), Artes (skill) and Mores (character) to a trio of incoming students. Participating in the ceremony were:
Diana Fritzner, a biological science major from Jacksonville with a 4.0 grade point average who was selected to represent the Class of 2014 and light the first torch. In her first year at FSU, Fritzner was inducted into the Phi Eta Sigma National Honor Society and the Society of Collegiate Scholars and was selected for the Student Government Freshman Leadership Committee. She also was invited to join the Garnet and Gold Key Honor Society and won the Student Government President's Challenge Award.
Ekaterina Rybakova (Vires), of Coral Springs, Fla. Rybakova entered Florida State with a tennis scholarship. She was named to the all-ACC tennis team four times and invited to the NCAA Singles Championship three times. An English education major with a 3.93 GPA, Rybakova also has excelled off the court, making the all-ACC Academic team four times and once being named an Academic All-American. Her honors thesis, "Adolescent Temperament, Learning Styles, and Course Performance," won an FSU Undergraduate Research Award. She is the co-editor-in-chief of the Florida State Undergraduate Research Journal (The Owl) and already is taking courses for her doctoral degree.
Manuel Ozambela (Artes), of Naples, Fla., who was born and raised in the United States after his family emigrated from Cuba. A biological science major with minors in chemistry and business, Ozambela maintains a 4.0 GPA. He co-founded a program to teach CPR to migrant farm workers in Quincy, Fla., and served as president of the Minority Association of Pre-Medical Students. As a first-year student, he began his research career by looking for ways to improve behavioral outcomes following traumatic brain injury. He currently is working on his honors thesis, "Use of High Field Magnetic Resonance Imaging to Identify Chemotherapy-Resistant Brain Tumors." Winner of an Undergraduate Research and Creative Activity Award, Ozambela is a member of Phi Beta Kappa and Phi Kappa Phi honor societies.
Jesse O'Shea (Mores), of Dunedin, Fla. O'Shea is the founder of the Global Haiti Initiative, which now is active at 20 universities. He also founded Students United for Health Care Reform and co-founded the first student-run United Way, which has expanded to more than 50 universities. O'Shea has served as director of both Lifetime Legacies for Hospice of the Florida Suncoast and the Office of Social Justice for the FSU Student Government Association. A former member of the Youth Advisory Council of the United States Public Service Academy, O'Shea was named to the USA Today All-USA Academic Team and was a finalist for the Truman Scholarship. He is currently enrolled in FSU's College of Medicine.
The torch recipients for the Class of 2015 were the winners of Florida State's annual Vires, Artes, Mores essay contest for first-year students:
Adam Bealyer (Vires), a graduate of Stanton College Preparatory School in Jacksonville, Fla., where he received numerous achievement awards, was active in the National Art Honor Society, and volunteered with the Jacksonville Humane Society, the homeless center, and the Duval County Health Department. He plans to major in business.
Christina Giarrusso (Artes). She was born on a U.S. Army base in Vicenza, Italy, where she lived for three years before moving to Melbourne, Fla. A graduate of Viera High School, Giarrusso is planning a double major encompassing international affairs and English (creative writing) with an emphasis in business.
Ashley Teixeira Alonso (Mores). A biological science major, Alonso was born in Fort Worth, Texas, and raised in an Air Force family. She has lived in Georgia, Arizona and England and swam competitively in England, Belgium and Germany. A National Honor Society member, Alonso moved to Eglin Air Force Base, Fla., for her senior year, graduating from Niceville High School.