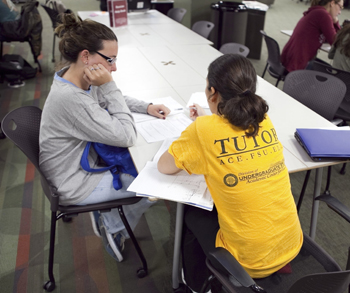 Florida State University student tutor Stefan Avey is used to guiding a "spectrum of students" as they work their way to higher GPAs.
"There are people who come in regularly to go over chapters and ask me questions. And then there are those who come in the day of a test, wanting everything explained in an hour," said Avey, a 21-year-old senior from Fort Myers.
Avey is definitely the man for the job: He's an honors student majoring in biomathematics and computational biology who already has done research as an undergraduate. (Along with two other students, he helped an FSU chemistry professor synthesize crystals and analyze their structure.)
Avey was an ideal hire for FSU's Academic Center for Excellence (ACE), which is part of the Campus Tutoring Cooperative, composed of five different on-campus tutoring programs. The cooperative earned high marks recently when it was certified through the International Tutor Program of the College Reading and Learning Association (CRLA). The certification is widely recognized as a benchmark in meeting or exceeding internationally accepted training standards, making Florida State's tutors among the best in the country.
"Tutor training on our campus is essential as more and more students seek high-quality tutoring assistance in difficult courses," said Peter Hanowell, director of Tutoring Services in the Division of Undergraduate Studies. Hanowell attracted his small staff of strong student tutors through a campuswide poster and email campaign. ACE tutors such as Avey are typically paid about $8.50 an hour and must provide excellent instructor recommendations and receive a B+ or higher in their respective area of tutoring.
The tutoring program, which had 2,599 student visits during the spring 2011 semester, now requires a 10-hour training program as a condition of employment. Student tutors who complete the training become CRLA Level 1 Certified Tutors, a distinction they may include on their resumes when applying to graduate schools or jobs.
"The tutors that we hire and train learn to interact with students in a way that supports the learning process and upholds the highest level of academic integrity," Hanowell said.
ACE Tutoring will be moving into a new Learning Studio in the newly renovated William Johnston Building near FSU's Landis Green. The ground floor, dubbed Johnston Ground, will also house academic advising and success coaching offices. With its 13,000 square feet of learning space and state-of-the-art computer technology, the new space will be a step up for Avey, who is used to working with students in a fairly limited area.
"It's going to be all about collaborative, peer-to-peer learning," said Hanowell, who is increasing his roster of student tutors to at least 30, with academic expertise in a wide variety of disciplines.
FSU's first-year retention rate for full-time students is an impressive 91 percent, according to the National Center for Educational Statistics. For students who seek out academic help, Hanowell said, the difference between staying in school and dropping out may have everything to do with tutor training.
"It is not just about students finding tutoring," he said, "but finding tutors who are trained to provide the kind of help students need — tutors who can do the job well."
For more information, contact Hanowell at (850) 645-9361 or phanowel@fsu.edu.