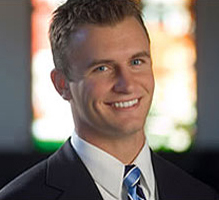 Florida State University student Joseph O'Shea has been selected as a 2007 Truman Scholar, one of the most prestigious honors an undergraduate can receive. A junior majoring in philosophy, O'Shea will receive $30,000 to study at the graduate school of his choice.
"We are extremely proud of Joe," said FSU President T.K. Wetherell. "This is a tremendous honor that speaks to the quality of the students we have at Florida State University and their commitment to serve the nation and the world."
"The Truman scholarship is the preeminent award for juniors in the United States," said Jamie Purcell, director of FSU's Office of National Fellowships, which helps FSU students pursue nationally competitive scholarships and fellowships. The office nominated and supported O'Shea through the extensive application process.
"Winning the Truman is an extraordinary distinction for Joe. He is a confident leader and idealistic visionary who is deeply committed to improving the most basic of human rights and the American dream through service, advocacy and activism."
O'Shea's role in building a free health clinic for Hurricane Katrina victims in the Lower Ninth Ward in New Orleans, his 4.0 grade-point-average and his leadership abilities were recognized by The Harry S. Truman Scholarship Foundation, which awards merit-based scholarships to college students who plan to pursue careers in government or elsewhere in public service. Truman Scholars participate in leadership development programs and have special opportunities for internships and employment with the federal government.
Since 2005, the Truman Scholarship has required recipients to work in public service for three of the seven years following the completion of a foundation-funded graduate degree program.
"This is no problem," O'Shea said about the requirement. "I would like to work for the rest of my life in public service. It's an overwhelming feeling knowing that I'll be a part of this network of social entrepreneurs who are working to change the world."
This year, the foundation awarded approximately 65 Truman Scholarships on the basis of merit to junior-level students at four-year colleges and universities who have extensive records of public and community service and have outstanding leadership potential and communication skills.
That description certainly fits O'Shea. He recently was elected president of student government and will serve on the FSU Board of Trustees as the student representative. In February, he was one of just 20 undergraduates to be named to USA Today's elite 2007 All-USA College Academic First Team. He is a member of FSU's Honors Program and the National Society of Collegiate Scholars and is an active community volunteer.
O'Shea, who is from Clearwater, Fla., says that after graduating in spring 2008, he will study law and is considering attending Yale, Stanford, Oxford or the FSU College of Law.