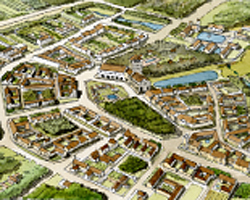 With more than 1,000 people a day moving to Florida, the Sunshine State is starting to get a little crowded. To help manage some of the pressures associated with such relentless growth, while also improving energy efficiency, sustainability and overall quality of life, Florida State University's Center for Advanced Power Systems (CAPS) has partnered with three other organizations to design a new community that could revolutionize the way future residential developments are constructed.
CAPS is part of a team that recently was awarded $1.8-million from Florida's Renewable Energy Technologies Grant Program to develop a residential community in rural Calhoun County. The community, to be known as Sky, will be designed to be one of the most ecologically friendly and energy-efficient developments of its kind in the United States. The team's proposal was among eight selected from more than 180 applicants to the Florida Department of Environmental Protection. FSU's portion of the award, totaling $722,000, adds to CAPS' current efforts in sustainable energy analysis and development funded by the U.S. Department of Energy and the Office of Naval Research.
"It's very exciting to have the opportunity to apply our expertise in renewable and sustainable energy technologies toward such a unique development," said David Cartes, an assistant professor of mechanical engineering in the Florida A&M University-Florida State University College of Engineering who will lead CAPS' involvement in Sky. "This project has the potential to serve as a model for future developments throughout the United States."
The focus of Cartes' excitement is Sky, a 571-acre community being planned by the development company White Starr Inc. on land it owns in the small Florida Panhandle town of Clarksville. Current plans call for 624 new home sites, an equestrian complex with miles of riding trails, public gardens, common agricultural fields with a farmers market, a lodge, office space, a general store and a conference center. More than one-half of the land will be set aside for agriculture and open space.
The homes will be grouped together into small "pods" modeled after Old World European villages. The plans for this "New Urbanism" approach were developed by the renowned design firm DPZ, a pioneer in these types of developments.
"By placing small groups of homes in close proximity, Sky will be able to lessen the development's environmental 'footprint' while also utilizing economies of scale to minimize energy production and manage wastewater," Cartes said. Among those economies of scale that the CAPS team will work to implement and analyze:
Geothermal loops that circulate water through underground pipelines to produce hot water using the Earth's natural heat. The hot water then would be piped to all of the homes within each pod to conserve energy.
Various sustainable-energy technologies, including optimal combinations of solar collectors, fuel cells and biomass systems, in order to generate power over electric "microgrids."
System-wide energy management and optimization through the integration of distributed monitoring and control systems.
"Load management" techniques that allow for greater production of electricity during high-demand periods and lower production during low-demand ones.
An advanced wastewater treatment facility that protects groundwater by utilizing aerobic treatment units instead of traditional gravity collection systems. Such a system also would enable the treatment of effluent that then could be used within the community for agricultural or landscaping use.
"The plan is to build 25 homes that utilize these technologies, collect and analyze the data to see how well they perform, then use that information to optimize the technology used in future build-out phases," Cartes said.
FSU researchers also will create a Web page to document their efforts. Eventually, the page will serve as an information clearinghouse on energy-efficient development that can be used by others to design their own communities.
FSU's portion of the Sky project is titled "Novel Integrated Energy Systems and Control Methods with Economic Analysis for Integrated Community Based Energy Systems." In addition to Cartes, members of the FSU team include Julie Harrington, the director of FSU's Center for Economic Forecasting and Analysis; Rick Meeker, manager of industry partnerships at CAPS; and Juan C. Ordonez, an assistant professor of mechanical engineering in the FAMU-FSU College of Engineering. Daniel Cox, an associate professor of engineering at the University of North Florida, also is collaborating with the FSU team.