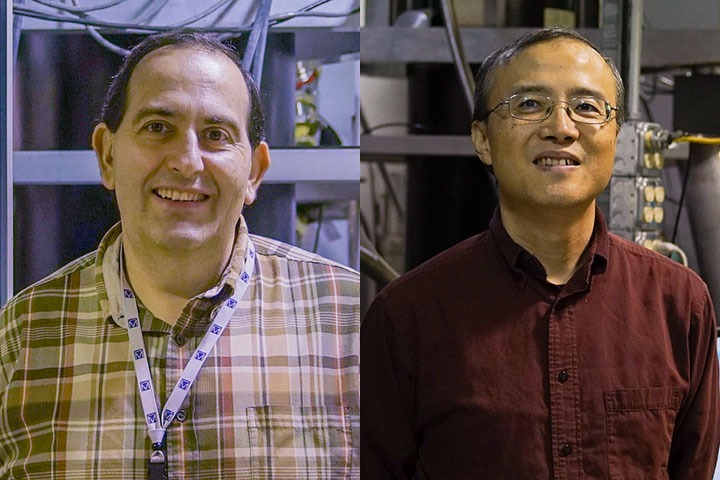 Two physics researchers from the Florida State University-based National High Magnetic Field Laboratory — Luis Balicas and Kun Yang — have been named Fellows of the American Association for the Advancement of Science (AAAS).
Election as a fellow is an honor bestowed upon AAAS members by their peers. Balicas and Yang are among the 391 AAAS members to be named fellows this year for helping advance science or its applications with scientifically or socially distinguished work.
"Luis Balicas and Kun Yang are shining examples of the researchers here at FSU who are working daily to further our understanding of the world around us," said Vice President for Research Gary K. Ostrander. "This honor by their peers and the AAAS demonstrates how valued their scientific contributions are, and we couldn't be prouder of this recognition."
Balicas, a senior scientist at the MagLab, earned the distinction of AAAS Fellow for making distinguished contributions to the fields of condensed matter physics and materials science, particularly for contributions to the nanosciences.
"To me, this represents a recognition of the quality of the research performed at the MagLab and at FSU for almost two decades," Balicas said. "Scientific research requires a high level of personal commitment, and it is always comforting to know that our peers at scientific associations perceive and evaluate our effort positively."
Yang, a professor of physics, was named an AAAS Fellow for distinguished contributions to theoretical condensed matter physics, particularly in topological phases of matter.
"I am very much humbled by this honor," Yang said. "This would not be possible without the continuous support I have been receiving from the MagLab and physics department since I joined FSU in 1999."
The new fellows will receive an official certificate and a gold and blue rosette pin, representing science and engineering, on Feb. 18 at the AAAS Fellows Forum during the 2017 AAAS Annual Meeting in Boston. The honorees also will be spotlighted in the AAAS News & Notes section of the journal Science on Nov. 25, 2016.
Founded in 1848, the AAAS is the world's largest general scientific society and includes nearly 250 affiliated societies and academies of science, serving 10 million individuals. The tradition of AAAS Fellows began in 1874.