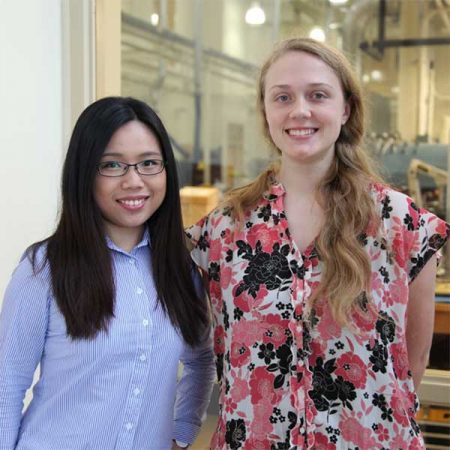 Two Florida State University graduate students are among the 35 talented women chosen from across the globe for Zonta International's 2016 Amelia Earhart Fellowship.
Zonta International, an organization that strives to empower women worldwide to achieve their full potential, established the fellowship to assist the future of women in aerospace and other aerospace-related sciences and engineering.
Margaret Schiener, an industrial and manufacturing engineering doctoral student, and Yiyang Sun, a mechanical engineering doctoral student, were recognized for their achievements with $10,000 fellowships. They both represent the Tallahassee chapter of Zonta International.
"I was really happy when I found out I was awarded a Fellowship," Schiener said. "The day I found out was particularly stressful and coming home to a letter stating I'd been chosen as a recipient was amazing. It was a good reminder that even though there's that day or week the experiment doesn't work, the overall plan can still work."
Schiener's research focuses on the integration of structural health monitoring and self-healing in polymer composites. The Amelia Earhart Fellowship will help her upgrade her overall living situation, she said.
Sun said she plans to use the money to help pay for tuition, books and other research supplies. Her research focuses on performing hydrodynamic stability analysis of compressible high-speed flows over cavities. The findings will help reduce aerodynamic fluctuation and noise emission over the cavity.
"This fellowship has motivated me to continue to work diligently and to always deliver quality work," Sun said.
To date, four FSU students have been awarded the Amelia Earhart Fellowship. Puja Upadhyay, a mechanical engineering doctoral student, and Jin Yan, an industrial and manufacturing engineering doctoral student, won the award in 2014.
Since its inception, Zonta International has awarded 1,473 Amelia Earhart Fellowships to 1,044 women from 70 countries across the globe.