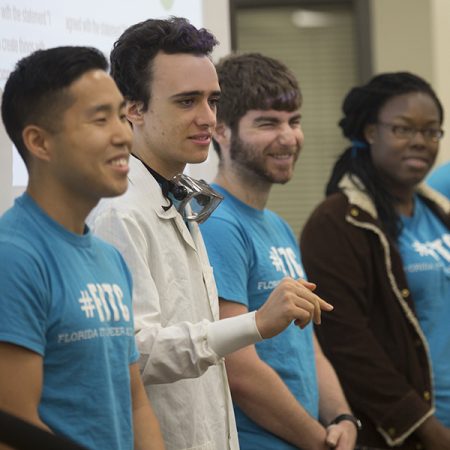 Jobs in computing and technology seem to be multiplying by the minute —and Florida State University students are doing their part to ensure the next generation will be ready to take advantage of those career opportunities.
Through a new partnership between the Florida IT Career Alliance, Leon County Schools and the City of Tallahassee, FSU student ambassadors will be teaching computer coding skills students from Cobb Middle School and Nims Middle School.
"Our goal is to recruit younger students, get them engaged in technology, get them a degree in IT or computer science and then get them a great job after college graduation," said Ebe Randeree, an associate dean at the College of Communication and Information, who is directing the program. "We want to starting them on that coding journey so they can get to all those cool jobs."
The FITC Alliance is a joint initiative between Florida State and Florida A&M University, funded by the Florida Board of Governors, to produce more students for careers in the high-demand fields of computer science, computer engineering, and information technology.
In 2022, it is estimated there will be one million more jobs available in computer science and information technology than there will be students who are pursuing those fields.
Leon County's five-week pilot program was launched at a public event Monday, Oct. 12, at Cobb Middle School. Students will participate in the Google CS First course, which 86,000 students across the nation have completed.
"One thing that we have to acknowledge in the economy we live in today is that you are not only competing against the young man or woman sitting next to you, but you're competing against the young man or woman who is in Asia or Europe," said City of Tallahassee Mayor Andrew Gillum. "We want to do our very best so that our students are ready to compete in a global marketplace."
The objective of Google CS First is to equip students to not just be downloaders of information, but to be creators of applications in the future. Google CS First encourages a different way of thinking and increases technology career opportunities, and the early exposure to computer science boosts diversity in the field.
"When it comes to technology in the Leon County School System, we believe that's how we close the achievement gap and provide the highest level of education we can possibly provide," said Jackie Pons, superintendent of Leon County Schools.
About 80 students from Cobb Middle School, and 25 from Nims Middle School, will participate in the pilot program. Eventually, the hope it to expand the project to school middle schools throughout Leon County.
"We are very excited to partner with FSU and the FITC Alliance to be able to expose our students to computer programming because it is not something that is not typically taught in schools —let alone middle schools," said Wendi Davis, a teacher of math and technology at Cobb Middle School. "We're excited to prepare them for all the possibilities this can bring."
The goal of the FITC Alliance student ambassadors is to engage students by showing them how technology is an integral part of their everyday lives.
"We understand that it is not just about coding," said Martin Sung, an undergraduate student in information technology. "It's about art and music and being creative. I think that's the big thing we're trying to push with FITC. We want to teach the students that this is not boring. It's going to be fun and we'll show them different ways to think and be creative."
For more information on the FITC Alliance, visit https://fitc.cci.fsu.edu/.