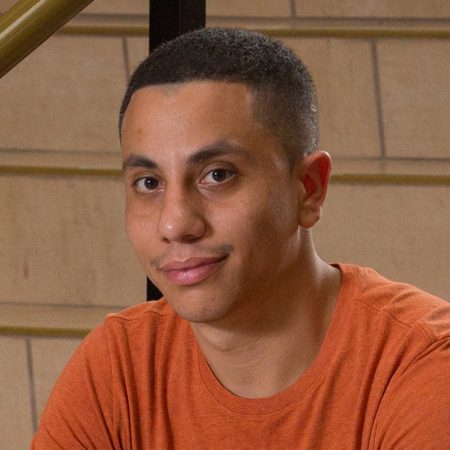 Revolutionary scientific research is performed by students in labs all over the world, including right here at Florida State University by undergraduate students like Jason Madinya.
Through research he is doing as a part of Florida State's Undergraduate Research Opportunity Program, Madinya hopes to use complex fluids to make better aircraft and change how we deliver medicine in our bodies.
The work of the university's undergraduate researchers was on display at the President's Showcase of Undergraduate Research Excellence Sept. 28, where Madinya received the David B. Ford Undergraduate Research and Creative Activity Award for his outstanding work in the field of engineering.
"Jason's research was considered by our faculty selection committee to be among the top undergraduate projects at FSU," said Joe O'Shea, the director of the Center for Undergraduate Research and Academic Engagement. "This accomplishment is even more impressive given that Jason is a first-generation American and a first-generation college student. We're incredibly proud of Jason and are excited to watch him continue to excel in graduate school."
Madinya, a senior from Hollywood, Fla., is currently studying chemical engineering at Florida State, and his passion for the subject became evident after spending an entire summer dedicated to research.
While Madinya didn't intend to conduct research as he completed his bachelor's degree, his professors encouraged him to pursue research and he discovered both a passion for it and a future in chemical engineering.
"I really didn't know much about the major when I first got into it, but I ended up really liking it," Madinya said. "I wanted to experience research and loved it."
Madinya now has his sights set on completing a doctoral degree and pursuing a career in teaching and research.
Under the mentorship of Associate Professor Subramanian Ramakrishnan at the FAMU-FSU College of Engineering this past summer, Madinya worked on a research project that has the potential to benefit many disciplines.
"The research I did over the summer was studying complex fluids called suspensions that border the line between solid and liquid," Madinya said. "We studied the properties at a microscopic level to determine the flow. We used a machine that shoots a laser through the matter and measures the properties of the suspensions."
With this complex machine, Madinya was able to look at the nanoparticles in the suspensions and see how fast and how far these particles were moving, which revealed lot about the matter.
"We looked at viscosity, which is really important in the flow of fluids," Madinya said. "We also looked at the strength of the fluids and how much they'll resist when we put pressure on them."
Madinya took the time to research things on a microscopic level in order to lay the foundation for an even larger project.
"One thing we're looking at is the production of lightweight aircraft wings," Madinya said. "Right now, aircraft wings are built with separate pieces that need to be assembled, but manufacturers are looking to make the wings in one piece. To get that to happen, we need that interface between solid and liquid."
The suspensions Madinya researched will flow to form a certain shape. Once the suspension gets to be the desired shape, it will stay that way and be comparable to toothpaste, Madinya explained. The end goal is to allow manufacturers to be able to control these substances to make more efficient aircraft wings.
"Understanding the theory behind the measurements was not an easy job but Jason made good progress in working through it and in planning and executing the experiments," Ramakrishnan said. "I feel this research experience made possible by the undergraduate research office will prove beneficial to him in graduate school where I have no doubt he will do really well."
Another goal for Madinya's research is to improve healthcare by improving the way medication works in the human body.
"Right now, medicine works by going into your bloodstream then traveling all over your body — that's why you have side effects," Madinya said.
To make these improvements, Madinya looked at the nanoparticles of the substances with the laser, and then used their magnetic properties to attach certain proteins to them so they can navigate where they need to go. While this project is in the beginning stages, eventually the hope is medications will have less side effects because they won't go to unwanted parts of the body.
"These nanoparticles we studied have special properties you can take advantage of," Madinya said. "The ones we looked at are made from iron and we worked with those magnetic properties. We attached proteins with that, and those proteins will find the right cells they want to go to, like cancer cells for instance."
For more information on undergraduate research, click here.