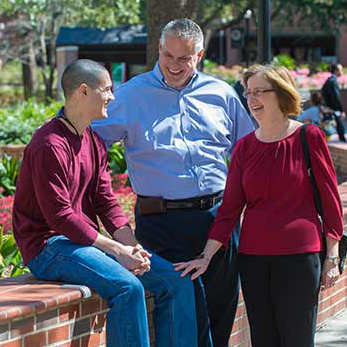 Parents' Weekend is that special time of the fall semester when parents and families can get better acquainted with the Florida State University campus and enjoy the experience with their student.
Florida State, which has celebrated this time-honored tradition of Parents' Weekend for more than 30 years, will host the annual event on Friday, Oct. 30, and Saturday, Oct. 31.
Featured events during the weekend include:
Friday, Oct. 30
President's Address to Parents, 4:30 p.m., Oglesby Union State Room
Parents' Weekend Picnic, 5 to 9 p.m., Oglesby Union Courtyard
FSU Flying High Circus, 5, 7 and 9 p.m., Haskin Circus Complex
Saturday, Oct. 31
5K Fun Run/Walk, 8 a.m., starts in the Oglesby Union
Parents' Weekend Brunch, 8 a.m. to noon, Oglesby Union
FSU football vs. Syracuse University, Kickoff TBA, Doak Campbell Stadium
Other fun activities for students and their parents include a photo booth at Crenshaw Lanes, movies at the Askew Student Life Center and karaoke at Club Downunder.
Parents and families are asked to register if they plan on attending any paid or ticketed events.
For a full list of events planned for Parents' Weekend 2015, please visit: http://pw.union.fsu.edu.