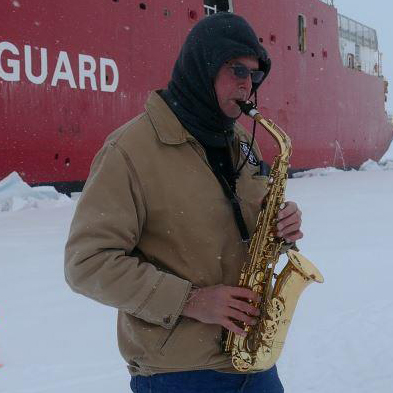 Three Florida State University researchers are part of the scientific team on board a U.S. Coast Guard icebreaker that became the first American ship to make a solo trip to the North Pole.
Professor of Chemical Oceanography William Landing, National High Magnetic Field Lab assistant scholar scientist Peter Morton and post doctoral researcher Neil Wyatt are part of the 145 member crew and science party aboard the U.S. Coast Guard Cutter Healy, which left Alaska Aug. 9 for the North Pole. The expedition is in support of GEOTRACES, an international effort funded by the National Science Foundation to study the geochemistry of the world's oceans.
The data collected by scientists will be essential to understanding how the Arctic works.
In addition to collecting samples, scientists are also engaging in outreach activities to show school-age children the unique landscape of the North Pole.
Earlier this year, small boats were decorated and signs by kids around the country, including visitors to the MagLab's annual open house last February. The boats will be deployed on ice floes with satellite tracking buoys so kids can follow the boats as the ice moves through the Arctic. When the ice melts, the boats will simply flat along in the water and hopefully one day make their way to a populated area where finders will contact the Center for Wooden Boats.
The United States is an Arctic nation, and the Coast Guard has operated in the Arctic since the 1860s. However, this is only the fourth time a U.S. surface vessel has reached the North Pole, and the first since 2005.
According to the U.S. Coast Guard, Healy is the country's premier high latitude vessel.
She is a 420-foot, 16,000 ton, 30,000-horsepower icebreaker, capable of breaking over ten feet of ice. In addition to performing the Coast Guard's other statutory missions such as law enforcement and search and rescue, Healy is a research platform with extensive laboratory spaces, multiple oceanographic deck winches, and berthing for 50 scientists.
Despite the seriousness of the mission, the trip has also provided moments of levity.
Landing, in an email back to FSU, attached a photo with a note telling colleagues that he got to play his saxophone at the North Pole.
For more on the trip, follow Morton's blog or the Coast Guard's real-time tracker.