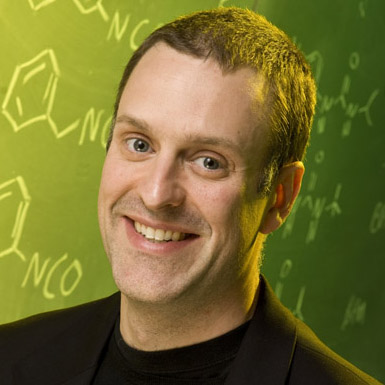 A research group led by Florida State University and Virginia Commonwealth University has received a $4.4 million grant from the Bill & Melinda Gates Foundation to dramatically reduce the cost of a popular AIDS/HIV medication.
The goal is to reduce the cost of the drug Nevirapine — a drug recommended by the World Health Organization to treat AIDS/HIV —to make treatment more widely available in poorer nations.
"Remember, most of the World Health Organization recommended therapies are purchased by aid groups and then distributed in Africa and other places where it's difficult to get treatment," said Tyler McQuade, professor of chemistry at Florida State University. "If you can continue to knock the price down further, that would mean public health groups that distribute drugs would be able to significantly increase their allotments for the year."
The public service element isn't lost on McQuade's team either. His doctoral student, Ashley Longstreet, said that working on research that has such global reach is inspiring.
"It's definitely a motivating factor," she said. "It's not like you are working on a little random project. You know that the final impact will be great."
Florida State is partnering with Virginia Commonwealth University, Massachusetts Institute of Technology and University of Washington on the project. Each institution will have distinct teams working on different facets of the overall project.
The impetus for this project was a chance meeting at a conference between McQuade and Virginia Commonwealth University Research Professor Frank Gupton.
When they met in 2010, they chatted about their individual interests and realized they had some common ground.
McQuade had spent the majority of his research career examining faster and cheaper ways to manufacture pharmaceuticals. At the time of their meeting, Gupton had just spent 13 years working for Boehringer Ingelheim Chemicals, Inc., the manufacturer of Nevirapine, and had helped the company figure out ways to mass produce the drug.
That initial conversation blossomed into a working relationship that eventually included researchers from University of Washington and Massachusetts Institute of Technology as well.
Their efforts have previously attracted the interest and financial support of the Corning Foundation and the Clinton Foundation. The latter continues to support Longstreet's graduate work.
McQuade, who is currently on leave from FSU to complete a fellowship with the Defense Advanced Research Projects Agency, said that Longstreet spent two years essentially running test reactions with different materials to see how they could reach the same end result, but cheaper and faster.
Work done previously by McQuade and Longstreet showed they do have a viable method to reduce the cost.
"It required screening hundreds of reactions until we came up with a method that worked," Longstreet said.
Longstreet and McQuade will continue on that line of work under the grant – finding ways to synthesize chemical reactions so that the drug can be made cheaper.
That's the "magical and most difficult part" McQuade said.
Because of the difficulty, MIT will also have a team specifically dedicated to that part as well. Gupton's team will work on how to "scale up" or produce mass quantities of the drug using the new process. The University of Washington will focus on quality control, ensuring that once it is scaled up that every single dose has the exact same impact.
"The objective of this effort is to identify a manufacturing route leading to Nevirapine that utilizes the lowest cost raw materials and ultra-efficient manufacturing tools," Gupton said. "We anticipate that this approach will not only lead to a new manufacturing process paradigm that will reduce the cost per kilogram of Nevirapine, but may also be applied to other important drug targets as well."
The $4.4 million will be spread out over two and a half years. For the first year, the researchers will receive $3 million.