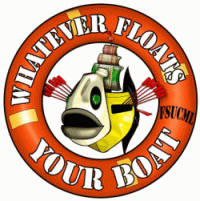 Florida State University's Coastal and Marine Laboratory is inviting water lovers from across the Big Bend area to put their creative and environmental spirit into high gear in the first-ever "Whatever Floats Your Boat" Regatta, taking place on Oct. 6.
The overall challenge of the regatta is to create a homemade "boat" from a list of approved recyclable materials that is both visually interesting and, at least initially, can float. With race objectives and prizes aimed more at staying afloat then being the fastest to the finish line, fun and laughter are sure to be the theme of the day. Prize categories include the following:
First boat to cross the finish line
Most creative use of materials
Titanic Award for the most spectacular failure
People's Choice award
For those more inclined to keep their feet planted on dry land, the race will be fully visible from various shoreline vantage points around the Marine Lab and the nearby boat basin. Other festivities surrounding the regatta include live music and food for purchase from Posey's Steam Room and Oyster Bar.
The regatta will take place:
SATURDAY, OCT. 6
NOON – 6 P.M.
FSU COASTAL AND MARINE LABORATORY
3618 COASTAL HIGHWAY 98
ST. TERESA, FLA.
To register for the regatta or learn more about the event, visit http://marinelab.fsu.edu/outreach/regatta.html.