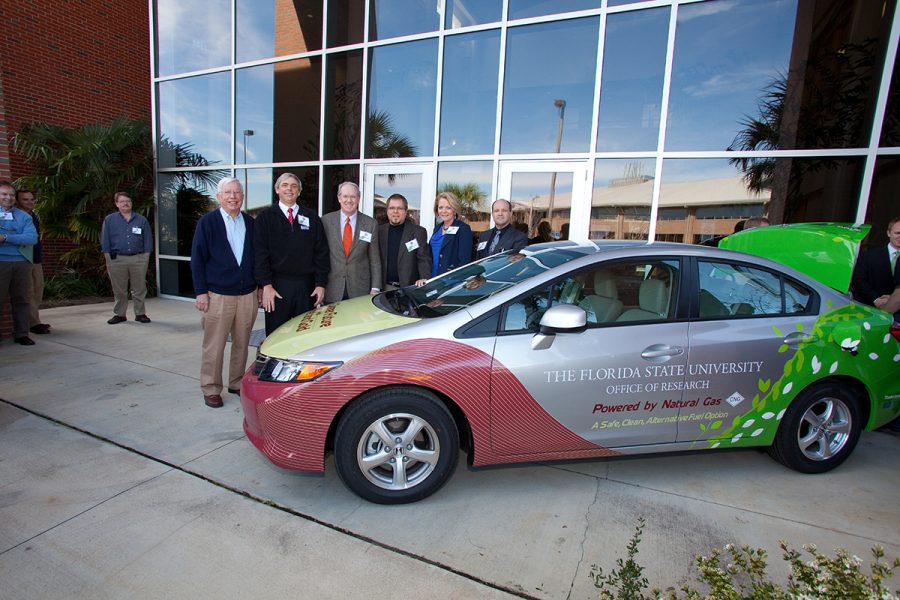 At first blush, it looks like an ordinary, no-frills Honda Civic sedan with some colorful graphics on it.
What's cool is that the car is powered by compressed natural gas (CNG), a safe, clean, alternative fuel option. And its addition to the university vehicle fleet is the brainchild of Kirby Kemper, the Robert O. Lawton Professor of Physics and vice president for Research at Florida State.
"We wanted to diversify our source of fuel for transportation (at FSU)," explained Kemper, who noticed several years ago while traveling in India that taxicabs in New Delhi were typically powered by CNG.
The CNG car will serve as a research tool and will be used by Florida State Office of Research staff on university business. In keeping with its research theme, the car's Jan. 30 public unveiling at the university's Materials Research Building included an educational experience for students and faculty, who got to hear about the technology directly from Honda CNG experts.
FSU's purchase of the vehicle reflects a commitment to a larger, campus-wide environmental effort — the Sustainable Campus Initiative — that launched last year. Staff members who drive the CNG car will keep logs of gas mileage and compare them to those from other university vehicles.
"Florida State's new CNG-powered vehicle is a great addition to our fleet," said Elizabeth Swiman, the university's director of campus sustainability, who spoke at the car's unveiling.
"This car truly is an example of research in motion and how each unit of this university can be a part of the overall vision for a more sustainable future."
Compressed natural gas cars typically run 180 to 200 miles before needing a fill-up. Natural gas is much cheaper than gasoline — roughly half the cost — and it's much cleaner. Compared with vehicles fueled by conventional diesel and gasoline, natural gas vehicles produce significantly lower amounts of harmful emissions such as nitrogen oxides, particulate matter, and toxic and carcinogenic pollutants, as well as the greenhouse gas carbon dioxide.
Kemper believes the United States must diversify its energy usage so it can reduce its dependence on foreign oil. Though compressed natural gas cars aren't new technology, Kemper said they are the "right" technology to help the university decrease its environmental footprint.
"While buses in big cities in the United States are using compressed natural gas, it hasn't caught on as much with cars," Kemper said. "Through this effort, we are hoping to help change that type of thinking."
Florida State's CNG car initiative reflects a partnership with Leon County Schools, the city of Tallahassee and Proctor Honda. Leon County Schools and the city are allowing the university to use their existing "fast-fill" CNG facilities to refuel the car until local public stations are constructed, possibly as early as this summer. Proctor Honda was instrumental in getting the car to Tallahassee so that Florida State researchers could begin the project.
To read more about this CNG car initiative, visit www.research.fsu.edu/naturalgascar.