Match Day is a very special day in the lives of graduating medical students. For Florida State University's Shalinee Wayland and Reece Vesperman, March 17, 2023, will always have extra significance. 
They had applied as a couple for the next step in their medical training, hoping to land at the same place for their residencies – she in psychiatry and he in orthopedic surgery. They already knew they had matched in their respective programs but didn't know where. 
Joined by family members – on the Ruby Diamond Concert Hall stage, in the audience and watching online – they revealed both matched at Vanderbilt University in Nashville, Tennessee. As the applause died down, Vesperman dipped the microphone stand dramatically and said, "But wait; there's more." 
He wasn't kidding.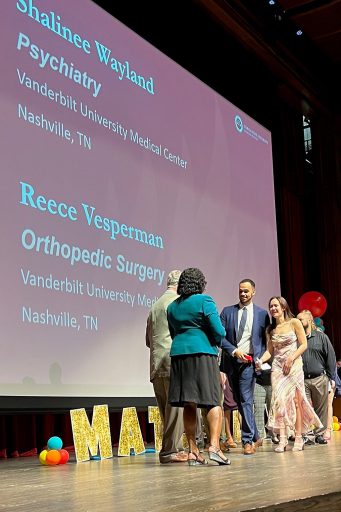 Vesperman dropped to one knee in front of Wayland, opened a small jewelry box to reveal an engagement ring and said, "Will you marry me?" Wayland, tears streaming down her face, nodded her head and said "yes." As the two embraced, the audience applauded loudly, several people rising to their feet. 
It wasn't the first proposal at a Florida State University College of Medicine Match Day, and it's a safe bet it won't be the last. 
On Match Day, students at 155 medical schools across the country learned of their residency matches at the same time. The match refers to the process by which the rank lists of students' preferences overlap with the rank lists of the program directors' preferences, resulting in the selection of students for residency programs. 
Some FSU students chose to open their envelopes the moment Interim Dean Alma Littles told them they could at noon; others opted to wait and open them on stage. 
Littles said that the graduating students started their medical education in 2019, less than a year before the pandemic upended lives and the established ways of teaching. But they persevered. Of this year's graduates, 41% will remain in Florida for their residencies. Of those, a combined 26% will train at either Orlando Health or the University of Miami/Jackson Health System. 
Barrie Bedasee matched at UM/Jackson Health System in OB/GYN. She held up her young daughter, Jaide Wood, to make the announcement as nephew Princeton Wood stood nearby. 
She was a bit surprised, because it wasn't her first choice, but ultimately was "very satisfied" with the outcome. 
"I'm happy to be closer to home," she said. 
Laura Samander was joined by her twin sister, Jennifer, and their father, Dr. Jacob Samander, a psychiatrist, to reveal her match. 
"I'm following in his footsteps, and I'm happy to announce I matched in psychiatry at Tufts University," she said, shouting the name of the Boston institution. 
Jennifer Rivera and Alexander DeWeerd also matched as a couple at Vanderbilt, she in emergency medicine and he in internal medicine. The couple recently got engaged and plan to marry next year. 
"We made our rank-order (preference) lists together," she said afterward. 
Match Day at the College of Medicine has annually had a theme and this year's was "Game Shows." The ceremony-long video began with Dean Emeritus John P. Fogarty persuading Littles to join him in one of the learning communities (LCs) to watch daytime game shows, his supposed new fascination in retirement, and enjoy snacks. With Associate Dean Anthony Speights wearing a false mustache that would make Steve Harvey proud, a spoof of "Family Feud" called "LC Feud" led off the series of short video clips, which were intertwined throughout the ceremony as students from each of the six regional campuses made their way to the stage. Other spoofs included "Who Wants to be a Doctor," "Don't Forget the Lyrics" and "The Newly Matched Game." 
Besides the marriage proposal, there were a couple of other surprises that may or may not have been Match Day "firsts." 
Ron Mackenzie sported a "Mackenzie tartan" kilt and matching bowtie to announce he had matched in orthopedic surgery with his first choice, Medical College of Georgia in Augusta, Georgia. 
"I really hope I am the first to wear a kilt on Match Day," he said after the ceremony. "I don't know for sure, though." 
He definitely was the only one this year.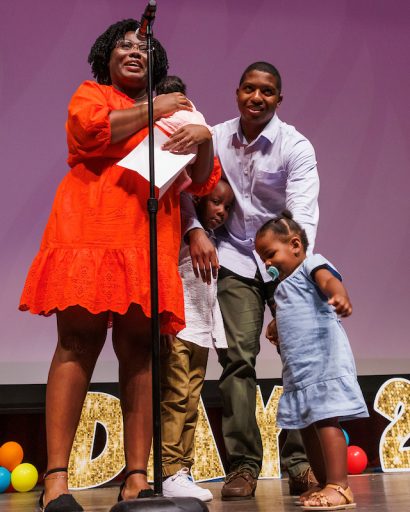 Cylena Stewart was joined by her husband, Darius Dukes, and their three children – Kai, Ari and Ali – as she announced she had matched in psychiatry at University of Miami/Jackson Health System. Dad hugged five-year-old Kai and 18-month-old Ari, while two-week-old Ali lay quietly in her mother's arms. Ali might be the youngest child ever on the Match Day stage. "She was really good," Stewart said. 
Her parents, Barbara and Oral Stewart, were also there and the Miami residents are thrilled the family will be close by, so they'll have a support system. 
"That's a blessing, because we couldn't help out if they were across the country," Oral Stewart said. "And, we get to see the kids." 
Having a support system was a recurring theme throughout. Students thanked their parents for their support and sacrifices, their grandmothers and sisters for the boxes of cookies and other treats. Littles thanked her husband, sitting with faculty in the front row, for being her support system. 
Class President Gabriella Sehres, in her closing remarks, praised her classmates for the amazing things she's watched them do in medicine, and the faculty and staff. She also urged her classmates to thank their support systems. Sehres, who matched in general surgery at the University of California – Davis Medical Center, said her two dogs are part of her support system. 
"Go home and hug your people," she said, "but also hug your fur babies." 
She also told them not to dwell on it if they didn't get their first choice. 
"No matter where you matched," Sehres reminded them, "you were chosen."