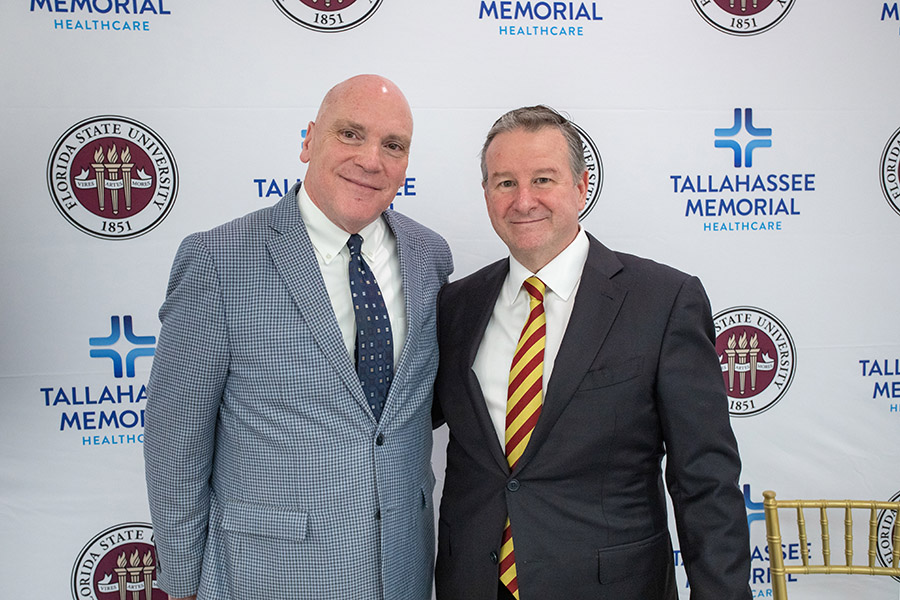 Florida State University and Tallahassee Memorial HealthCare (TMH) announced Wednesday a designation of land on which the university will build an academic health center.
They also announced the formation of a community advisory group called the Transformation Committee to help guide the two institutions.
FSU President Richard McCullough and TMH President and CEO Mark O'Bryant were joined at the announcement by Florida Agriculture Commissioner Wilton Simpson who previously served as the Senate President in the Florida Legislature and spearheaded the legislative support for FSU Health.
"FSU Health is a total game-changer for the region and for the state of Florida," Simpson said. "When I met with President McCullough about his goals, I challenged him to dream big – and he certainly has. I am proud to join in this significant first step on their journey to create a world-class research, clinical and health care center. The work of the Transformation Committee needs to be bold, forward-thinking, and innovative. That is what it will take for the dream to become a reality."
The Legislature and Gov. Ron DeSantis awarded FSU $125 million in 2022 to build an academic health center of the future. TMH has offered the university a parcel of land on the TMH campus to build the facility.
The center will provide about 130,000 gross square feet of medical and research-related space distributed over several floors. It will accommodate an estimated 30 principal investigators, producing an estimated $40 million of additional annual grant funding, focused on clinical trials, data-driven precision health, digital health and clinical informatics, and clinical and translational research.
"Universities don't get opportunities like this every day," McCullough said. "We want to deliver unparalleled clinical care with our partners at TMH, conduct impactful research, and provide outstanding educational programs. This combination of clinical care, research that informs treatment, and medical education is what makes an academic health center special."
Over the past several years, Florida State University has been growing its health research portfolio while also pursuing partnerships with major health care systems throughout North Florida, including TMH, Mayo Clinic and others. But the legislative appropriation to build the academic health center of the future kicked those efforts into high gear.
FSU and TMH are also partnering with The St. Joe Company on a health care campus in Panama City Beach, featuring an 80,000-square-foot medical office building slated to open in 2024 and a 100-bed hospital to be completed in 2027. The three organizations celebrated a construction kickoff for the campus in January.
"Bringing advanced clinical research to Tallahassee allows us to strengthen the health care platform at Tallahassee Memorial by providing access to services not typically available at community hospitals," O'Bryant said. "Establishing this academic health center in partnership with FSU will create a vibrancy within our medical community that will enhance our ability to recruit highly skilled physicians and medical professionals to our region, many of whom are looking for roles that offer opportunities to both participate in research and educate the next generation of health care professionals."
North Florida faces a considerable need for more physicians and nurses. The Health Resources and Services Administration has designated many counties in the Florida Panhandle as underserved and as facing significant shortages in medical professionals.
At the same time, the state — and region's — population continues to grow rapidly. In December 2022, the U.S. Census announced that Florida is the nation's fastest growing state with a population of more than 22 million.
In addition to the land designation, the two institutions unveiled the Transformation Committee, a 10-member group that will be chaired by Kevin "Casey" Nolan, a partner with the global consulting firm Guidehouse, and will provide assistance to both FSU and TMH as they partner on the FSU Health-Academic Health Center and other projects throughout North Florida.
The committee members are:
Jorge Gonzalez, President and CEO, The St. Joe Company; Trustee, Florida State University
Nan Hillis, Retired Chief Strategy Officer, Prime Meridian Bank; Executive Board, Florida State University Real Estate Center
Kathy Mears, Chief of Staff, Commissioner of Agriculture
Bill Smith, Chairman and CEO, Capital City Bank
Reverend Dr. R.B. Holmes, Jr., Pastor, Missionary Baptist Church
Martha Barnett, Retired, Former Tallahassee Memorial HealthCare Board Chair
Steve Evans, Retired, Former Tallahassee Memorial HealthCare Board Chair
Lee Hinkle, Retired, Former Tallahassee Memorial HealthCare Board Chair
Winston Howell, Shareholder/Chairman Emeritus, Thomas Howell Ferguson PA; Former Tallahassee Memorial HealthCare Board Chair
Andrew Wong, MD, Orthopedic Surgeon, Tallahassee Orthopedic Clinic; Former Tallahassee Memorial HealthCare Board Chair
###
About Tallahassee Memorial HealthCare
Founded in 1948, Tallahassee Memorial HealthCare (TMH) is a private, nonprofit community healthcare system committed to transforming care, advancing health, and improving lives with an ultimate vision to elevate the standards of healthcare practice, quality and innovation in the region. Serving a 21-county area in North Florida and South Georgia, TMH is comprised of a 772-bed acute care hospital, a surgery and adult ICU center, a psychiatric hospital, multiple specialty care centers, three residency programs, 38 affiliated physician practices and partnerships with Alliant Management Services, Apalachee Center, Calhoun Liberty Hospital, Capital Health Plan, Doctors' Memorial Hospital, Florida State University College of Medicine, Radiology Associates, Weems Memorial Hospital and Wolfson Children's Hospital. For more information, visit TMH.ORG.