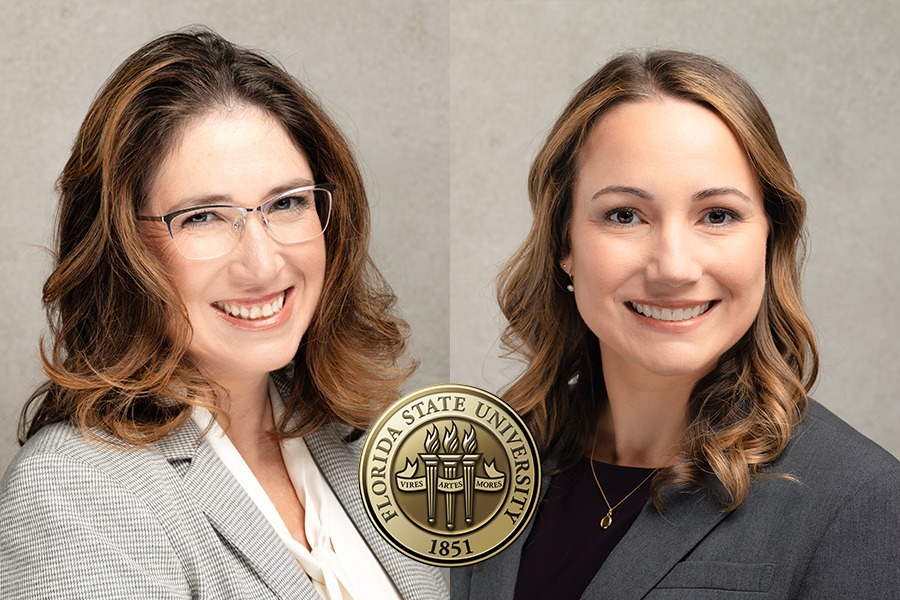 Two recently hired faculty members in the College of Nursing are wasting no time making their mark at Florida State University, expanding the college's footprint through the creation of a new institute focused on the intersection of digital innovation, big data and health care.
Lisa Hightow-Weidman and Kathryn Muessig — esteemed digital health experts whom FSU hired from the University of North Carolina at Chapel Hill — have created the Institute on Digital Health and Innovation.
The institute, part of the College of Nursing, will emphasize the use of digital tools in health education, messaging and treatment; inspire collaboration and innovation across the university and health care industry; and provide training for students and postdoctoral fellows through research.
Hightow-Weidman will serve as founding director and Muessig as founding associate director.
"This institute will bring together and foster collaborations across multiple diverse groups, including academic, community and industry stakeholders," Hightow-Weidman said. "And what the institute can offer hopefully is to create an ecosystem to facilitate the advancement of rigorous, translational research focused on solving real-world needs of patients and that ultimately benefit health care systems and communities."
The initiative corresponds with FSU's growth in health care-related research and education programs. Florida State University has been building out its health research portfolio while pursuing partnerships with major health care entities throughout North Florida, including Tallahassee Memorial HealthCare, HCA Florida and the Mayo Clinic.
The Institute on Digital Health and Innovation will play a major role in furthering those efforts while providing important training opportunities for students.
"There are some great researchers in the College of Nursing who have thought a lot about digital technologies and health education and how you use that to the benefit of patients," Muessig said.
She noted one of her first conversations with Jing Wang, dean of the College of Nursing and said: "One of the things that I really appreciated hearing was her vision for training through research – hands-on experiential learning for students to complement what they're doing in the classroom."
Hightow-Weidman began her role as a distinguished and endowed McKenzie Professor in the College of Nursing in early October. Muessig will start her role as a College of Nursing professor on Dec. 1.
"Research at the Institute on Digital Health and Innovation will promote equitable care that uses novel digital solutions, fulfilling the College of Nursing's mission to boldly tackle challenges in how health care workers deliver the best care to patients," Wang said. "This initiative will also provide more training opportunities for students and will foster collaboration and innovation across campus to impact the entire health care ecosystem in Florida, nationally and globally."
Wang also noted the college's focus on technology to enhance the use of human touch – she calls it the "high human touch" – and increase nurses' time at patients' beside.
"One health equity emphasis of the digital health approach we anchored here at FSU is the tech-empowered high human touch approach to engage not only the wealthy who desire advanced technology, but also those who lack access to or prefer the high human touch over tech solutions," she said. "This can particularly benefit the ever-increasing retiree/aging population in the state of Florida."
She called the approach "our guiding principle and our lens leveraging digital health solutions."
Hightow-Weidman is an internationally renowned expert in the development, implementation and evaluation of digital health interventions to address the HIV Care Continuum for adolescents and young adults. She has been at the forefront of translating evidence-based science into digital applications, specifically through the inclusion of game-based elements, self-monitoring and tracking and provision of support to increase engagement and impact health behavior.
Muessig has focused on prevention and care of HIV and other sexually transmitted infections in the U.S., China and South Africa. She develops interventions combining digital health tools, behavior-change strategies and health systems navigation to decrease HIV transmission and improve health care for people living with HIV.
Together, they have garnered over $100 million in funding from the National Institutes of Health and Centers for Disease Control and Prevention (CDC). They aim to quickly build on that, including for the Institute on Digital Health and Innovation.
The founders touted their initiative for its promise of a team-based center that collaborates and inspires research that leads to diagnosis, prevention and treatment of disease.
"It's been exciting to meet people at FSU who are working in different areas of digital health, coming at it from different approaches, different types of technologies, wearable devices, areas that we have been interested in but haven't had the opportunity to collaborate and see where that will take us," Muessig said.
The institute also will provide practical experience to students who could apply research and a digital health approach to careers in, for example, health care, public service or academia.
"Getting started in research can be intimidating," Hightow-Weidman said. "My hope for the institute is also to create space for people who might have thought about research, have a great idea, but maybe aren't sure how to get started or could benefit from additional training, mentorship or networking opportunities."
She added: "We're really excited about what the next few years will bring and can't think of any place more suited to launch this new endeavor than FSU."