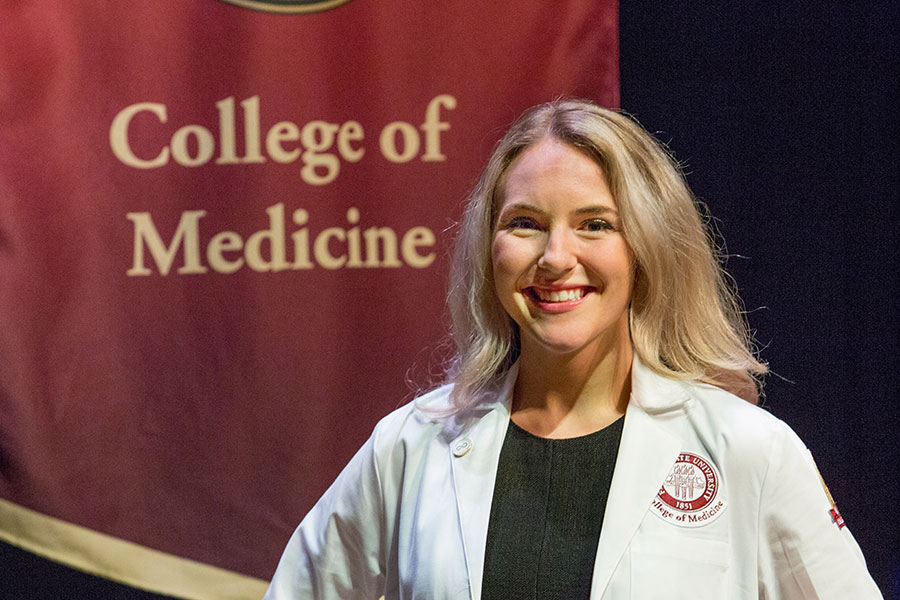 When one of the newest academic programs at Florida State University opened its doors to undergraduates in fall 2016, about 450 students were expected to enroll within its first two years. Instead, more than 700 students rushed through the door by fall 2017. That number has grown to about 900 today.
Since its inception, 39 students have graduated from the Interdisciplinary Medical Sciences B.S. degree program, with 25 more set to graduate Friday at 7:30 p.m.
"We expected a rapid growth within the program, but we didn't expect an explosion, which is what happened," said Maribel Amwake, IMS degree program manager. "We became one of the top three majors that freshmen were applying for right after our first year. It's been really neat to see it grow, and even more rewarding to see these students graduating now."
The IMS program, housed at the College of Medicine, was the brainchild of Senior Associate Dean Myra Hurt. Its goal is to provide a broad, exploratory path for undergraduates considering a health profession, but not just medical school — nursing, pharmacy, social work, veterinary medicine, health policy and all the rest.
It's one of the first programs of its kind nationally. Through a seminar series, experiential learning, capstone projects and the tireless work of the program advisers, the IMS program is fulfilling its purpose to help students find their niche in health care.
"I started college knowing I ultimately wanted to go to medical school, so I chose one of the common pre-med majors," said Katharyn Lindborg, who graduated from the IMS program in May 2018 with the first cohort of graduates. "I enjoyed my science classes, but over time I developed an interest in health policy, particularly issues related to health insurance and access to care."
Lindborg is now a first-year medical student at the FSU College of Medicine.
"IMS ended up being exactly what I was looking for," she said. "It allowed me to build a strong science core for medical school and educated me on the social and political aspects of medicine that I think are equally important."
The program is a collaboration involving seven FSU colleges: Arts and Sciences, Communication and Information, Human Sciences, Medicine, Nursing, Social Sciences and Public Policy, and Social Work. The collaboration allows students to customize their roadmap to graduation as they pursue a major in clinical professions; community patient care; or health management, policy and information.
Freshman seminars introduce students to all the health care professions spanning administration, policy, research, medicine and patient care. As sophomores and beyond, students delve into the patient experience and types of patients, learn how the system works and explore issues and problems in health care.
"With that continuum, students get exposed to lots of different aspects of health care that are not just particularly focused on medical school or PA school," said Anthony Speights, associate dean of the IMS program. "It gives them a broad overview of what health care looks like in the country and allows them to figure out where their interests are."
Alex Negron Price, a spring 2019 graduate who majored in health management, policy and information, credits the coursework with helping him solidify his interests. "With U.S. health care constantly changing, seminars and in-class discussions helped me see what I could do to contribute to that change in a positive way," he said.
Now, Negron Price is pursuing a master's degree in health systems management at Rush University in Chicago. "It's very easy to have a specific idea of what you want to do in life as you enter IMS," he said. "But it's also possible that you find a path you never heard of until you discussed it in an IMS seminar."
Helping students find their way through the various paths and electives can be a tall order for the advising staff.
"There's no cookie cutter for our program," Amwake said. "We really work hard on individual advising because we can't gear it to a big group when every student has different goals and motivations. For an aspiring PA, for example, we automatically know from the very beginning they need to build in a lot of science courses. We know some professional health schools require statistics, so where do we fit that in? It's knowing the basics and doing prep work."
Amwake said students often find what they're passionate about through the community service, volunteer shadowing, clinical work trainings and more that make up their required 256 hours of experiential learning. Lindborg, for example, completed her experiential learning hours as an eligibility specialist at Shepherd's Hope, a medical clinic for low-income, uninsured patients.
Many students are on pace to graduate with over 1,000 hours.
While the program helps students navigate career options within health care, it also affords some the opportunity to find a better fit.
"Students often switch from one major to the other after exploring some of the electives. But it's also very common for them to switch out and realize they don't want to do anything in health care," said Amwake. "People will ask, 'Are you upset when your students transfer out?' Our response is actually 'No,' because we've met our goal. They realized on their own that maybe this isn't for them."
The 25 who will cross the stage at commencement Friday make up the program's fourth graduating class. Several are advancing their careers in professional schools.
"Every time we hear of a student who got accepted, we're screaming in our offices excited, or they'll come and tell us and we're jumping up and down with them," Amwake said. "We see their struggles and we see their journey, and it's really rewarding to see their hard work pay off."
A reception and senior capstone presentations will take place at 2 p.m. Friday, Dec. 13, in the College of Medicine atrium, followed by commencement at 7:30 p.m.
To learn more, visit https://med.fsu.edu/index.cfm/imsDegree.