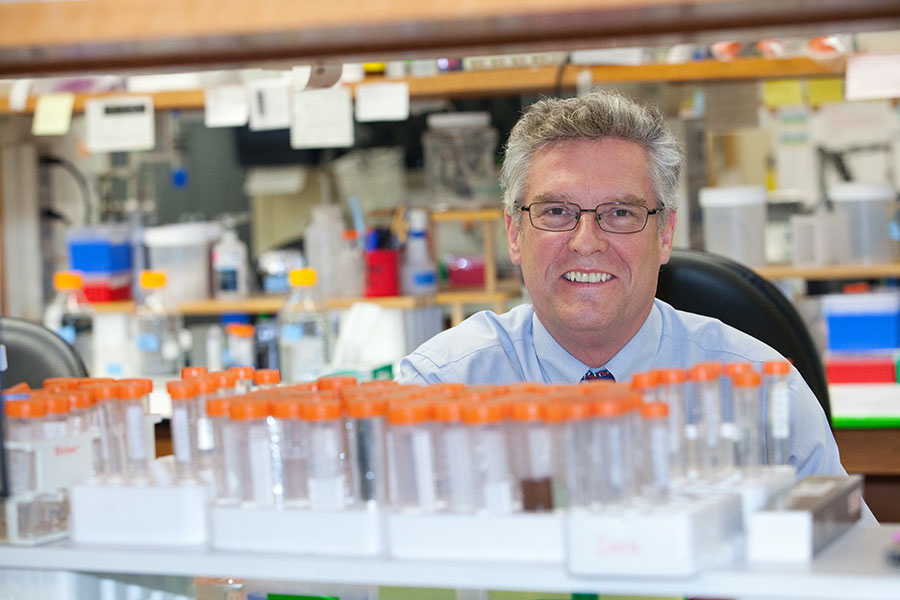 A Florida State University professor and the dean of the FAMU-FSU College of Engineering have been named to the National Academy of Inventors.
Michael Blaber, a professor of Biomedical Sciences in the FSU College of Medicine, and Murray Gibson, dean of the FAMU-FSU College of Engineering, have been named fellows of the academy, which highlights academic inventors who have demonstrated a spirit of innovation in creating or facilitating work that has made a tangible impact on the quality of life, economic development and welfare of society. They are two of 168 fellows named as part of the 2019 class.
Blaber has been a faculty member at FSU since 1994. His work focuses on protein systems and how they can be engineered as human therapeutics. He has spent years perfecting an artificial human protein that could stimulate cell growth and provide relief for an incurable eye condition called Fuchs' Dystrophy. The disorder causes swelling in the cornea and can lead to cloudy vision and general discomfort.
His research at FSU has generated 18 patents.
"It's an honor to be included in such a distinguished group," Blaber said. "The patents from my lab are shared with graduate students, postdocs and technician co-inventors who have provided a lot of assistance along the way. I'm grateful for their support in moving this work forward."
Blaber's research has been licensed by Trefoil Therapeutics, a private biotechnology company that has attracted more than $28 million from investors in a recent round of financing.
"Dr. Blaber's work is incredibly promising and the university was so happy to find a partner in Trefoil to help potentially bring this technology to the public," said Brent Edington, director of the FSU Office of Commercialization. "This recognition by NAI is a testament to Dr. Blaber's hard work in developing a technology that could make a big difference in the lives of people with Fuchs' Dystrophy."
Gibson was nominated for the award by Florida A&M University. The two universities run a joint College of Engineering, the nation's only shared engineering college. However, nominations had to come directly from one of the universities, rather than the college.
Gibson holds five U.S. patents in techniques for semiconductor layer growth, including a patent on a novel technique for electron beam lithography that led to one spin-off company. He has published 212 journal articles and served on the editorial boards of Applied Physics Letters and Reviews of Progress in Physics. Prior to coming to the College of Engineering in 2016, he was the founding dean of Northeastern University's College of Science. He also worked for 11 years at Bell Laboratories and was the associate laboratory director of Argonne National Laboratory from 2001 until 2010.
The 2019 class represents 136 research universities and governmental and nonprofit research institutes worldwide and collectively holds over 3,500 issued U.S. patents.
They join current FSU faculty members Robert Holton, David Larbalestier, Alan Marshall and Thomas Lipo as a fellow.