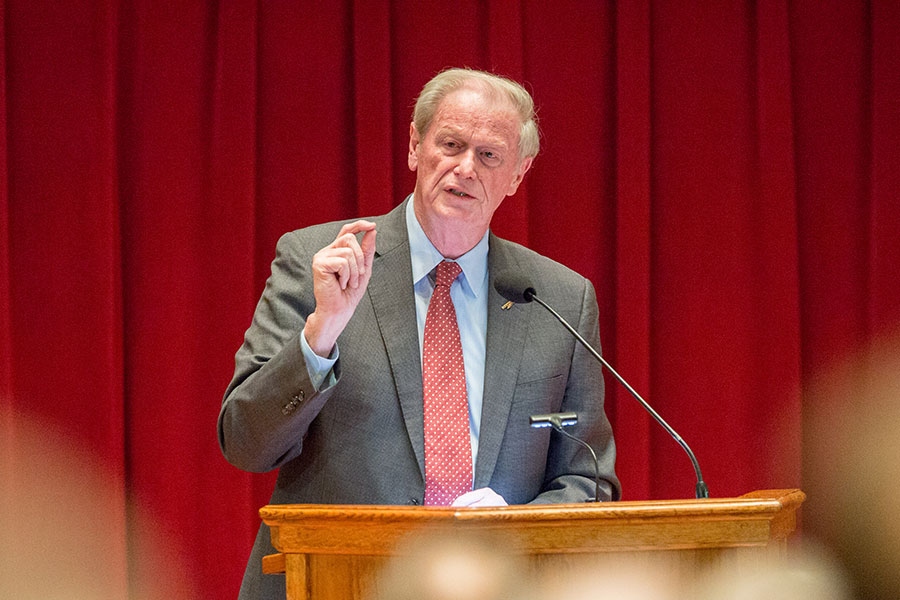 Florida State University students, faculty and staff are achieving at the highest levels, according to President John Thrasher, who presented his annual State of the University address to the Faculty Senate on Wednesday, Dec. 4.
Thrasher said a culture of excellence is the reason why Florida State is now recognized as the 18th best public university in America. He credited faculty, staff and administrators from across campus who have been working for nearly five years to first develop a strategic plan that would serve as FSU's road map to the Top 25 and then implement measurable benchmarks to ensure the university moved in that direction.
"You know, when we first starting talking about reaching the U.S. News & World Report's Top 25, there were some people who didn't think we could do it," Thrasher said. "And they certainly didn't think we would break into the Top 20 — at least not this quickly."

Florida State's focus on student success has had the biggest impact on the university's upward trajectory in the rankings, he said. FSU's four-year graduation rate is the best in Florida and among the Top 10 public universities in the nation, while its 93 percent freshman retention rate ranks among the nation's Top 20.
This success has resulted in FSU's increasing popularity among prospective students. Applications for summer and fall admissions are already up 8 percent compared to this time last year.
"More and more, we are becoming the first choice for the very best students," Thrasher said.
Graduate school enrollment is at an all-time high, and graduate student applications are up 26 percent since 2017, Thrasher said.
"Graduate education is a hallmark of any great research university, and we are strategically growing our graduate and postgraduate populations," he said.
In addition to exceeding its goal of reaching the Top 25, Florida State posted achievements in areas across the board.
This past fiscal year, FSU faculty researchers received nearly $234 million from federal, state and private sources — a new university record.
Faculty research is making a difference around the globe and close to home. As an example, Thrasher cited the opening of the College of Medicine's FSU Primary Health center near Sabal Palm Elementary School where faculty and students are providing needed care and services to an underserved community.
Thrasher also recognized FSU's newest college, the Jim Moran College of Entrepreneurship — the nation's first stand-alone college of entrepreneurship — and its dean, Susan Fiorito.
"This shows how the $100 million gift from Jan Moran and The Jim Moran Foundation continues to transform our campus, and we continue to be grateful for their generosity," he said.
Along with highlighting Florida State's successes, Thrasher discussed some of the university's key challenges, including the administration's efforts to enact policies that support a healthier and safer environment for Greek Life organizations.
"I can assure you, FSU will be unyielding in its efforts to punish those who cannot abide by the rules and do not put the health and safety of their members and pledges first," Thrasher said. "I think we're making a difference in that area, and we're going to continue to work hard on it."
Looking ahead, Thrasher continues to have high expectations for FSU.
"The Top 15 is in our sights, and the Top 10 is a long-range goal," he said. "But it's going to take significant support from our friends as well as the Florida Legislature to make it happen."
Thrasher said the fact that FSU moved up faster than any other university in the Top 50 bodes well for the 2020 Florida legislative session, which begins Jan. 14.
"I've been meeting with a number of legislators already, and I'm very optimistic about this session," he said. "Our legislators understand the importance of higher education for the state, and they know FSU, in particular, provides a great return on investment."
Florida State will ask the Legislature for funding to hire nationally recognized faculty, improve its faculty-student ratio and enrich Florida's talent pipeline, as well as to provide more resources to recognize current faculty for their hard work. In addition, Thrasher said that securing funding for the new College of Business building and an Interdisciplinary Research and Commercialization building will be top priorities.
"From academic and research excellence to entrepreneurship and innovation, from student success to diversity and inclusion — everything we have accomplished has further enhanced our reputation of excellence," Thrasher said. "I'm looking forward to continuing to work with you to reach even higher and achieve even more in 2020."