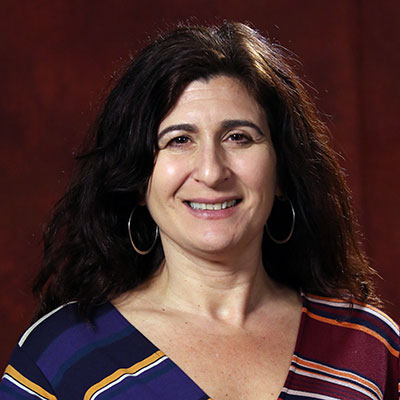 Florida State University's research reputation is set to receive a boost with the arrival of a highly regarded behavioral researcher whose focus includes improving the health of minority adolescents.
Sylvie Naar, described as a "force of nature" by her department head in the College of Medicine, has been hired to direct FSU's new Center for Translational Behavioral Research.
"Dr. Naar is a world-class researcher with a long track record of significant research contributions in the behavioral health sciences," said Gary Ostrander, FSU's vice president for Research. "We are excited about the possibilities that this new translational center will bring to our community."
Jeffrey Joyce, the College of Medicine's senior associate dean for research and graduate programs, agreed.
"This hire shapes our vision of expanding campuswide, collaborative research," he said. "She is an internationally recognized expert in reducing health disparities through behavioral interventions, something that fits well with our mission."
Naar is moving to Tallahassee from Detroit, where she was professor and director of the Division of Behavioral Sciences at Wayne State University. Her FSU title is Distinguished Endowed Professor in Behavioral Health in the medical school's Department of Behavioral Sciences and Social Medicine.
"I feel so welcomed and appreciated here, and I already feel like the fit is perfect," Naar said. "I am thankful every day that I can do what I love, merge my passion for scientific inquiry with helping those most in need, and I am doing this in an environment filled with people who have the same passion and mission. The translation of science to real-world practice to improve mental and physical health is why I became a clinical health psychologist."
Behavioral Sciences and Social Medicine Chair Les Beitsch said Naar's work will fill a void in the department.
"What's been missing," he said, "is a way to take the findings and the ideas that people have and immediately test them to see if they can improve people's lives. That's what translational research is about. Dr. Naar has been doing that her entire career and now has this huge research enterprise. She's passionate about what she does."
Naar is an expert at writing grants that assemble teams of researchers from across the country. Her resume lists 10 active national or international grants and contracts, with total costs exceeding $17 million. In half of those, she has the top role of principal investigator. They involve HIV-related self-management among youth, adherence to asthma medication among urban African-American adolescents, diabetes care in minority youth, and alcohol and food consumption in female college students who have experienced dating or sexual violence, among other topics.
"What I'm most excited about is that translational piece — relatively modest tweaks on interventions tried in a population that needs those services at a very early stage, and seeing what works," Beitsch said. "Getting them out into the community as soon as possible is really exciting. The timeline that people used to use is 17 years from bench to bedside" — that is, from a researcher's lab to a patient's life. "This is more like 17 months."
Heather Flynn, the department's vice chair for research, said Naar's focus on minority health fits well within the college's and department's mission. On the other hand, Naar's focus on adolescent behavioral health and on intervention, or applied research, helps fill a gap in the department.
In addition, she said, Naar's work is applicable to a broad range of conditions.
"Her multifaceted intervention approach cuts across different populations and diagnoses," Flynn said. "For example, she's not doing an intervention that applies only to HIV risk prevention or only alcohol use or only obesity risk. Her interventions can affect a variety of outcomes.
"I have more of the mental health piece, and she brings more of the behavioral health piece — physical activity, diet, exercise, substance use. All these things go together, so I can really see us beginning to collaborate."
Flynn got the ball rolling on Naar's move to FSU. She has known Naar about 10 years because both attend conferences and conduct training in a therapeutic technique called motivational interviewing. Only more recently did Flynn discover that Naar's other research interests paralleled some of her own. She invited Naar to speak at the College of Medicine in April — and one thing led to another.
Flynn said the department had much to offer:
"We have a lot of different kinds of behavioral health faculty — and that's very unique," she said. "Dr. Naar can capitalize on the growing FSU Clinical Research Network, and she will have access to populations not always available in a traditional medical school."
Flynn said Naar really cares about the people in her research studies.
"She's one of the most inclusive, down-to-earth people I've met," Flynn said. "We're just so fortunate that this worked out."