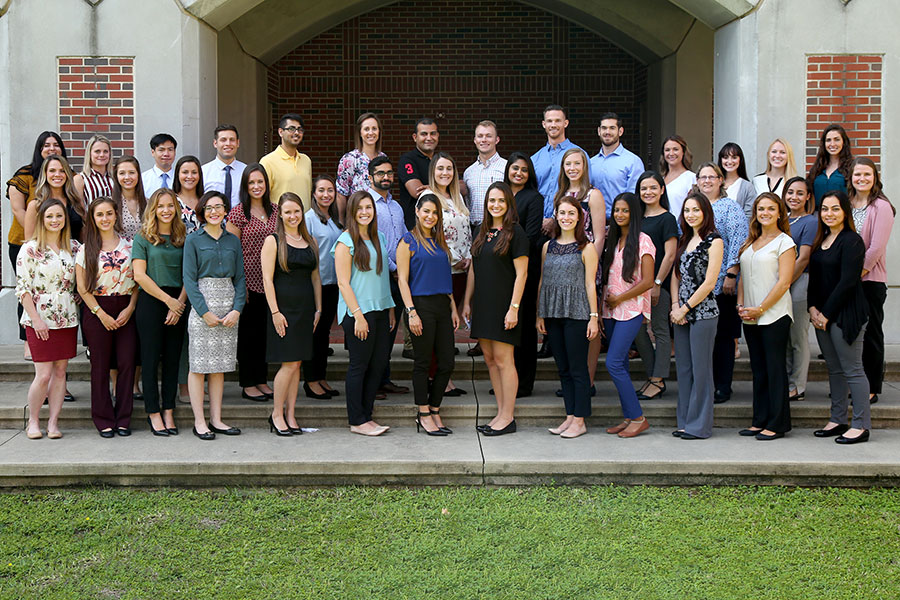 From the beginning, medical students at Florida State University's College of Medicine have been trained to be part of their patients' medical team. Starting now, the college is training other members of that team as well — as the doors officially open for the School of Physician Assistant Practice.
"What is unique about the PA program is that you get an opportunity to have this interdisciplinary team early on in training," said Assistant Professor Susan Salahshor, who also is president of the Florida Academy of Physician Assistants. "It affords us that ability to help them be better team-based professionals because the med students and PAs are here together and are developing a rapport with each other."
Physician assistants work under a physician's supervision and in close partnership with nurses, physical therapists, occupational therapists, behavioral health professionals, administrators and others. At FSU, students will spend 27 months learning within the same network of faculty physicians who teach FSU medical students.
"The community aspect of this program really drew me here," said student Annabelle Scanlan. "We have a learning community where we can all be together. And in addition to that, we have the opportunity to work with med students, which is important since we will be working with them the rest of our lives. It's nice that we get to interact with them — and we can see what they go through, and they know what we go through — to prepare us for working together in the future."
Since its creation in 2000, the College of Medicine has addressed the need for more physicians in Florida, especially those who will serve in primary-care specialties and work with elder, rural, minority and underserved populations. PAs will provide another layer of primary care, further strengthening the medical school's commitment to its mission.
"The Legislature, visionaries and pioneers for our program recognized that the Panhandle and other parts of Florida are underserved areas for providers," said Ben Smith, director of Didactic Education. "Our focus is to help address that need."
Students in the program are heavily recruited out of Florida with the hope that they'll stay and practice in underserved communities within the state. Scanlan, for example, came from Ave Maria, a small town near Immokalee in southwest Florida.
FSU welcomed its inaugural class of 40 PA students for orientation Aug. 22. Enrollment is scheduled to increase to 50 next year and then be capped at 60 thereafter.
The program's structure is similar to that of FSU's M.D. program. In their first year, PA students will build a strong foundation in biomedical sciences through courses in anatomy, physiology, pharmacology and nutrition. During their final year, they'll complete clinical rotations at one of the medical school's six regional campuses. Through an apprenticeship model, they'll work one-on-one with a physician or PA throughout each rotation.
"Community-based medical education — as opposed to almost entirely hospital-based education, as most medical schools do it — has been very successful at providing a high-quality clinical education to our M.D. students, and at helping to influence our graduates to eventually practice in these communities," said College of Medicine Dean John P. Fogarty. "The PA program is built along the same principles, and we expect similar results. We're excited to have PA students helping us achieve our mission."
The first FSU PAs will graduate in December 2019 with a Master of Science in Physician Assistant Practice. They'll then be eligible to sit for the Physician Assistant National Certifying Exam and apply for state licensure to begin practice.
The PA students at FSU are new, but the program has been in the works for several years. Jim Zedaker, its founding director, arrived in January 2016 and began building the program and undergoing the rigorous process involved in accreditation. Provisional accreditation was granted in April of this year.
"The accrediting agency noted that we had zero areas of noncompliance with the accreditation standards, which is a testament to everyone at the College of Medicine," Zedaker said.
There's a lot of demand for these PA slots. While the accreditation process was underway, more than 800 prospective students applied to a PA school that — at the time — existed only on paper. The program is on pace to more than double the number of applicants next year.
"I think people had faith seeing the program's progression as we've gotten started — and knowing the reputation of Florida State and the College of Medicine gave them more confidence," Zedaker said. "It's all about building a reputation and letting people know who we are. My goal is for this to eventually become a top nationally recognized program."