In four years, the College of Medicine's Class of 2020 will cross the stage in Ruby Diamond Concert Hall to receive their M.D. degree. Friday evening, though, after just 10 weeks in medical school, they crossed the stage to receive a spotless symbol of their chosen profession: a white coat.
They haven't earned it yet. That's not the point of the annual White Coat Ceremony. The point is to remind them — before an audience of loved ones and friends — that they're taking on a huge responsibility. Toward the end of the event, they even repeated an oath that stated, in part: "I pledge to dedicate my life to the service of humanity."
The other goal of the White Coat Ceremony is to give these hardworking new med students some encouragement after they've spent all summer in the anatomy lab and the classroom.
"You weren't sure that you were up to the challenge or had what it took to succeed here," Dean John P. Fogarty told them, reminding them how apprehensive they'd been 10 weeks earlier. "Well, now that you're at the end of summer, things look a lot different, don't they? Yes — it was hard, but you've discovered that you really DO belong in medical school."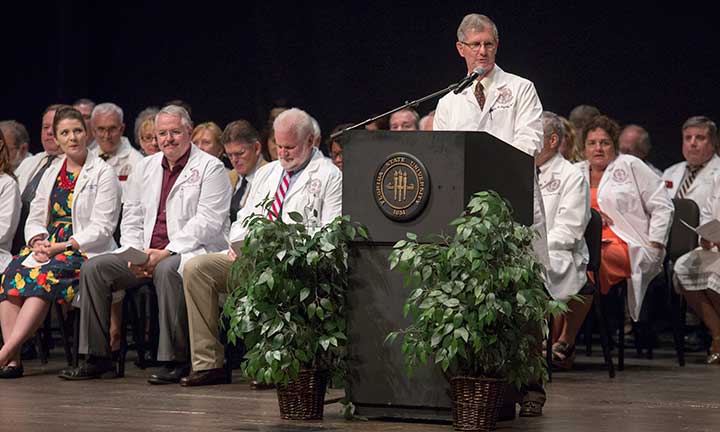 Fogarty painted a picture of this diverse group of students.
"For your parents and loved ones," he said, "here is some data about your class:
Your class is majority female, with 68 women and 53 men.
You range in age from 20 to 37.
Over half of you (70) did your undergraduate work at FSU.
In keeping with our mission and geographic focus, 33 of you come from Florida Panhandle counties, and a good many of you come from areas designated as rural.
You have wonderful diversity, with 11 students who are Hispanic, 17 African-American and 19 Asian/Pacific Island."
That diversity is no accident. The college has multiple pipeline programs to ensure its student population resembles the Florida population, because a key piece of its mission is to produce the kinds of physicians that the state's diverse communities need most. In fact, FSU's medical school has become one of the most diverse in the country, according to data from the Association of American Medical Colleges. It's the only one ranked in the top six for both black and Hispanic students.
For the Ruby Diamond audience, the high point of the evening arrived when the students, four at a time, took to the stage so faculty members could help them into their new coats. A dozen students were coated by relatives who are either faculty members or alumni of the med school.
"The white coat, along with the stethoscope, is one of the most recognizable symbols of medicine," Fogarty reminded them. "While you should wear it with great pride, you must recognize that with this symbol comes great responsibility. You are not just going to school — you are joining a profession."
Continuing a recent tradition, the main speaker was a College of Medicine alumnus. Rachel Bixler (Class of 2011) returned to Florida two years ago from residency training at Wake Forest Baptist Medical Center and is practicing family medicine in the Panhandle town of Port St. Joe where she grew up.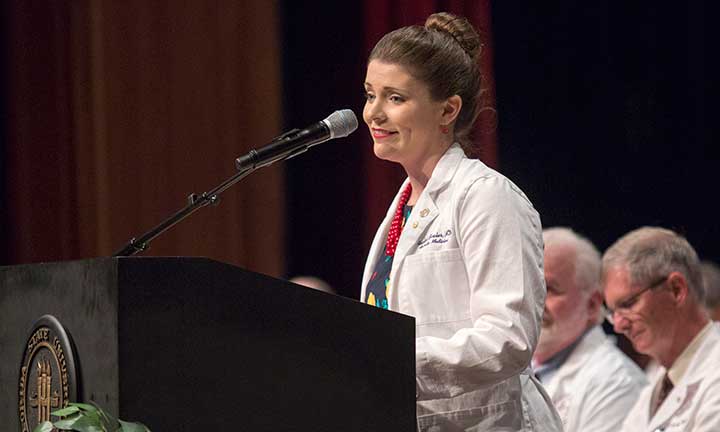 At one point in her speech, she described life-changing moments in medicine:
"… It's the moment when you are the only one in the room who knows the results. You have to tell them the biopsy was positive. The procedure didn't work. The CT shows a mass. Sometimes, it's not terminal. Something straightforward to us, like a diagnosis of diabetes, but that was the diagnosis they fought years to avoid. And that's when our patient's world stands still.
"The opposite is also true. When we are the ones holding the good news. When you are the only one who knows that the mammogram is clean or that the biopsy is negative. In those conversations, speak carefully and with kindness. Know that your patient's world can stand still even with good news."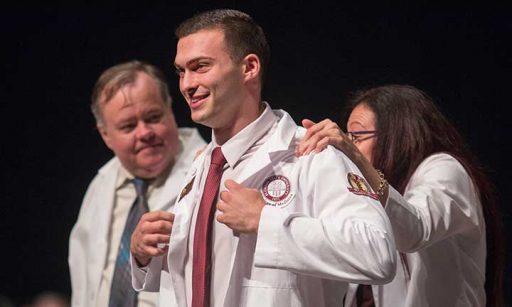 Among other special moments at the White Coat Ceremony:
Two Distinguished Alumni Awards were given out. One went to Garrett Chumney (Class of 2005), who grew up in Apalachicola and now cares for patients in both the Tallahassee and Blountstown areas. He's a hospitalist at the Tallahassee Memorial Hospital Behavioral Health Care Clinic, and he also directs the emergency room at Calhoun Liberty Hospital. The other award went to Michael Weiss, assistant professor of neonatology at UF Health at the University of Florida. He did his first year of medical school at Florida State through the Program in Medical Sciences, forerunner of the College of Medicine.
Seventeen fourth-year students were inducted into the FSU Chapman Chapter of the Gold Humanism Honor Society. "Each received multiple nominations from faculty, staff and classmates in categories that assessed: care with caring, service and clinical excellence," said Daniel Van Durme, faculty co-advisor for the Chapman Chapter. They were recognized, he said, as the ones you'd want to care for your own loved ones.
"As I see the promise and enthusiasm in the faces before me," Gold Humanism inductee Angelina Malamo told the first-year students. "I am filled with hope that we will not only meet but exceed the standards of both technical excellence and humanism for which this program is known."