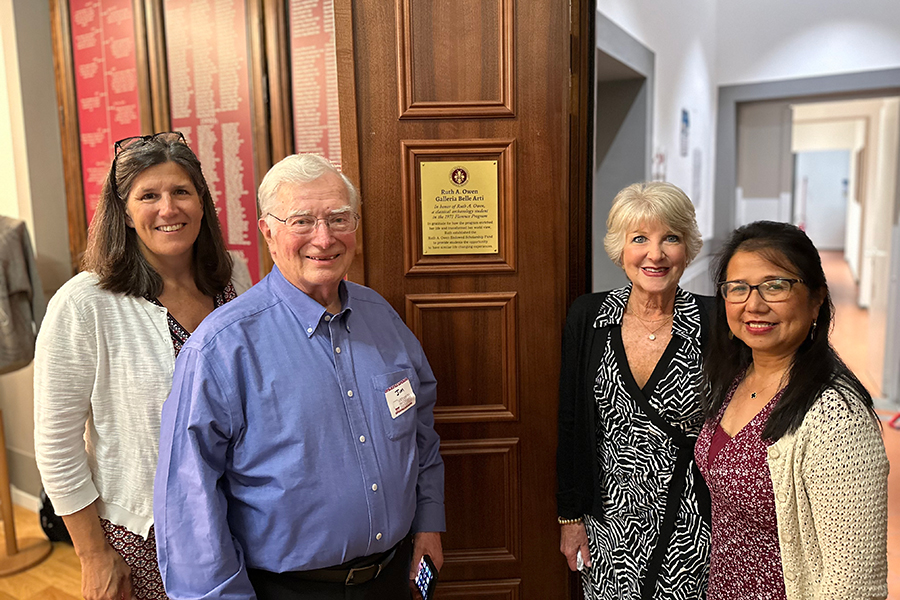 Florida State University alumna Ruth A. Owen's life was forever changed after studying abroad in Florence, Italy, in 1971.  
Now, Owen hopes to change more lives with the establishment of the Ruth A. Owen Endowed Scholarship Fund. The endowment will provide students with the opportunity to have similar life-changing experiences and is a testament to Owen's gratitude for how the FSU Florence Program transformed her worldview.  
As part of the celebration of 50 years of archaeological excavations at Cetamura del Chianti, the FSU Florence Study Center unveiled the Ruth A. Owen Galleria Belle Arti.  
Located on the second floor of the FSU Florence Study Center, the Galleria Belle Arti was conceived to house revolving exhibitions from students, faculty and local artists, and for the display of rare objects, books and archival material.  
The space will also function as a permanent link to FSU's archaeological program at Cetamura in Chianti, including an annual exhibit curated by student interns from the Cetamura program. Should funds become available after the scholarships have been awarded, then the remaining funds will be used to support student exhibitions at the gallery. 
The unveiling marked a significant milestone for International Programs as the Ruth A. Owen Galleria Belle Arti is the first named room at one of FSU's four study centers in Florence, London, Valencia or Panama.  
"I can't think of a more fitting person than Ruth Owen to blaze this trail," said Jim Pitts, Director of International Programs. "She broke down barriers throughout her academic and professional career, and now she is doing so in philanthropy. Her generosity and determination fit together to accomplish her goals and provide a road map for others who may wish to make similar contributions to benefit International Programs and our students." 
Owen arrived at FSU in Fall 1968 as an archaeology major in the College of Arts and Sciences. John Reich, a professor in the Classics department, encouraged her to attend the FSU Florence Program, where he would be teaching about Greek, Etruscan and Roman artifacts and culture.  
Owen studied abroad from June 1970 to January 1971 and completed a directed independent study of Etruscan civilization under Reich. After earning her degree, Owen spent additional time in Florence studying Italian language and art history.  
Her career path changed drastically after taking a job at a financial institution in Jacksonville, Florida, where she was given the opportunity to become a management trainee. She obtained an MBA in 1981 and spent the next 44 years at the same banking entity, mostly as a senior mortgage banking executive.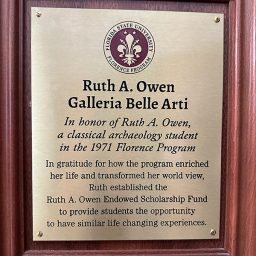 Despite the career change from archaeology to banking, Owen said that her experience abroad in Florence all those years ago continues to influence her.  
"I am grateful to Florida State for the opportunity to participate in the Florence program," she said. "My experience and participation in the program enriched my life and transformed my world view. Establishing this endowment allows me to provide a unique opportunity to future students. It is my hope that this scholarship will allow them to have similar life-changing experiences that positively impact their lives and future careers." 
To learn more about the Ruth A. Owen Endowed Scholarship Fund or make a gift, contact Mafé Brooks, assistant dean of Development, at (850) 645-4698 or mbrooks@fsu.edu.