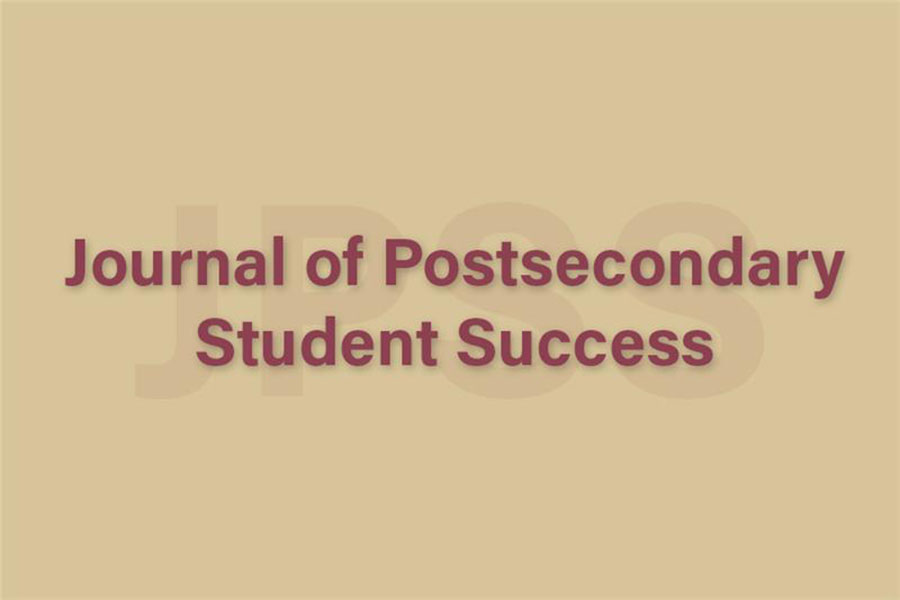 At Florida State University, student success means success for all — including achieving equity for students of different backgrounds.
Now, as part of the university's ongoing commitment to student success, Florida State has launched the Journal of Postsecondary Student Success (JPSS), a quarterly, open-access, interdisciplinary journal that publishes peer-reviewed research, editorials and practitioner reports related to student success in higher education.
"Student success is at the heart of everything we do at Florida State University, so it's fitting that the university is launching a journal dedicated to that mission," said Sally McRorie, provost and executive vice president for Academic Affairs at FSU. "This new journal is a place where our peers can share the important work of helping college students to thrive academically, graduate and move on to exciting careers, graduate school or professional education. We hope it inspires new ideas and research in this area."
Intended to disseminate theory, research, policy and practice related to student success in higher education, the journal welcomes work from scholars and practitioners across disciplines that addresses challenges, interventions, innovations and solutions to issues facing postsecondary education student success and equity.
"As a nation, we need our best thinkers and leaders in higher education to work together to ensure every student can achieve to their full potential," said Assistant Provost and Dean of Undergraduate Studies Joe O'Shea, who is co-editor of the new journal. "Journals can provide the forum for that kind of sharing and collaboration, and the JPSS brings together top researchers and leaders from around the country to share how institutions can innovate to support students."
Shouping Hu, the Louis W. and Elizabeth N. Bender Endowed Professor of Higher Education in the College of Education, is the founding editor of the JPSS. Although he never expected to serve as an editor for an academic journal, let alone found one, he's excited to foster a community where researchers, practitioners and policymakers can address issues facing postsecondary student success.
"JPSS will focus on student success in postsecondary education, with a particular interest in innovations and solutions to promote success for all students and to close the gaps in success in students of different backgrounds," Hu said.
Hu said that FSU serves as a model in this area as the university has high student graduation rates and has virtually eliminated the gap in graduation rates between the general student population and underrepresented students.
Hu is also the founding director of the Center for Postsecondary Success (CPS) at Florida State University, a research center dedicated to identifying and evaluating institutional, state, and federal policies and programs that may serve to improve student success.
To Hu, JPSS is of the community, by the community and for the community. And the launch of JPSS can help eliminate the arbitrary boundaries across different groups working in the student success space and help make intentional connections among researchers and scholars, policymakers, and institutional leaders and administrators.
"The community includes the editorial board, the journal reviewers, the authors, the readers and the supporters of our work, with students at the front and center of all our efforts," Hu said. "The success of JPSS will be the success of the community, and the success of JPSS will contribute to the success of students."
JPSS is already making an impact. Nationally known scholar Robert Kelchen from University of Tennessee, Knoxville, published his study, "An Exploration of Nonresident Student Enrollment and Institutional Finances at Public Universities," in JPSS. A few days later, Kelchen's study was covered by the Chronicle of Higher Education.
Covering subjects from data and analytics to strategic finance and organizational and institutional transformation, the journal aims to be inclusive in terms of topics, conceptual perspectives, modes of inquiry, styles and viewpoints, and is divided into four sections: editorials, research articles, essays and commentary and policy and practices.
The product of teamwork, JPSS is published in collaboration with Florida State Open Publishing, an initiative of FSU Libraries. The journal provides immediate open access to its content on the principle that making research freely available to the public accelerates its social impact and supports a greater global exchange of knowledge.
For more information and to view the first issue, visit https://journals.flvc.org/jpss/.
The mission of JPSS is to foster a community where researchers, practitioners, and policymakers can come together to find solutions to address issues facing postsecondary student success through rigorous and timely research and evidence-based policy and practice.