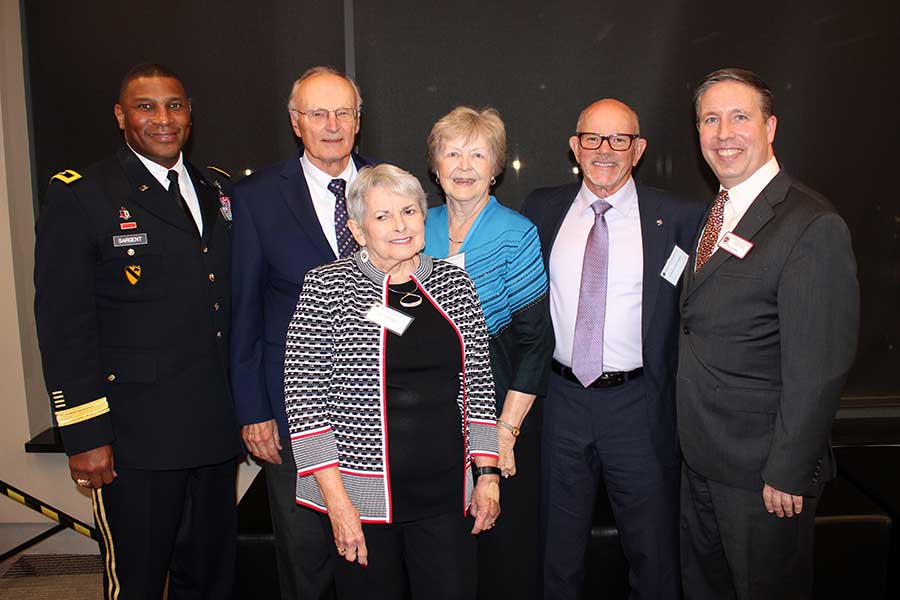 The Florida State University College of Social Sciences and Public Policy celebrated its 2019 distinguished alumni at a celebratory ceremony and dinner Friday, Oct. 25.
This year, three prominent graduates, William Desvousges, Joyce Godwin and Maj. Gen. Patrick D. Sargent, will be honored.
"In the past, we have mostly honored just one alumnus per year, but because we have so many accomplished and noteworthy graduates, we wanted to recognize these three individuals for their professional achievements, contributions to society and support of the college and the university," said Dean Tim Chapin. "These are three truly remarkable individuals with very different stories, but a commonality of sharing a love for this university and college."
When the distinguished alumni visit campus this week for Homecoming, they plan to share their experiences and insights with students as inspiration for the various paths open to those who study the social sciences.
The honorees include:
William Desvousges (M.S. 1974, Ph.D. 1977 Economics)
Desvousges has a global professional reach as a specialist in natural resource damage assessment. His connections to his roots at FSU are deep and lasting. The skills in applied economic research that have guided him in conducting major environmental valuation studies for more than 30 years were honed at FSU. His dissertation on Outer Continental Shelf oil and gas leasing grew from his time working as a graduate research assistant to Professor of Economics Phil Sorenson.
The founder of a leading consulting firm in the environmental economics field, Desvousges has conducted interviews for the FSU applied economics program. He and his wife also have endowed a graduate scholarship fund in honor of his friend and colleague from the economics department, Michael Piette, who died in 2009.
"Mike and I, and our wives, too, believe in the importance of education as a way to advance yourself," Desvousges said. "Being able to make at least a small difference for people is something we all value."
Joyce Godwin (B.S. 1965 Government)
One might say governance is a magnet for Godwin. Very busy in student government during her time at FSU, she has since served on boards for private or publicly traded corporations, not-for-profits, higher education organizations, banking and financial services, arts groups and even aviation companies. She has furthered the excellence and mission of these and other governing bodies as a consultant.
Among her many accomplishments, Godwin has been the director of the National League of Cities Inquiry Service, executive director of the San Jose Chamber of Commerce, education director of a Texas hospital and chief administrative officer of Presbyterian Healthcare Services, a large statewide organization based in Albuquerque, New Mexico. Much of her time and energy in recent years has been devoted to World Vision International, a Christian humanitarian aid, development and advocacy organization active in nearly 100 countries.
"Living a life of generosity is important to me," Godwin said. "It's always all about giving one's time, talent and treasure."
Patrick Sargent (B.S. 1985 Political Science)
Maj. Gen. Patrick Sargent is well aware of the debt he owes the people and opportunities from his past.
"My family and teachers taught me that greatness isn't some elusive gift given to a select few," he said. "Greatness is in all of us. We just have to find it in ourselves and in others."
Sargent found that greatness in service to the nation throughout his long and distinguished military career as a member of the Army Medical Service Corps.
At FSU, he was a member of the ROTC. When he graduated, he walked as a Distinguished Military Graduate and immediately received his active-duty commission. Over the past 34 years, which has included exceptional service in multiple deployments to Iraq, Sargent has commanded numerous Army organizations and orchestrated and optimized capabilities and capacities in military hospitals across the globe.
Today, he is commander of the U.S. Army Medical Department Center and School Health Readiness Center of Excellence at Fort Sam Houston, Texas.
Full profiles of the 2019 Distinguished Alumni can be found on the College of Social Sciences and Public Policy website and in the latest issue of Engage magazine, the college's annual publication.