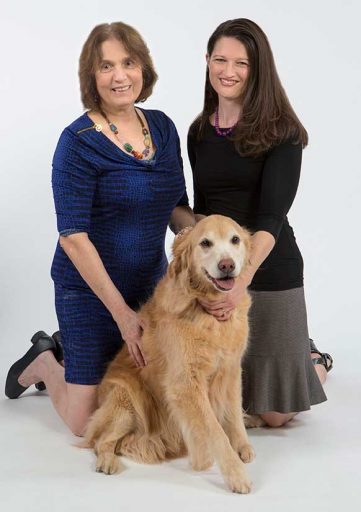 Many believe that owning pets can be beneficial for older adults. But is it true that a dog or a cat can make life better for older family members, or is this simply a comfortable myth?
Two researchers with Florida State University's Institute for Successful Longevity intend to find out with the support of a $50,000 grant from the Gerontological Society of America and the WALTHAM Centre for Pet Nutrition, the fundamental science center for Mars Petcare.
FSU researchers Dawn Carr and Natalie Sachs-Ericsson will tap into data on human-animal interaction collected as part of the Health and Retirement Survey, a long-term study of more than 20,000 individuals 50 years old or older.
"The Health and Retirement Survey is an important source of data for understanding aging processes in the United States," said Carr, assistant professor of sociology. "In 2012, a subset of the study participants were asked about their pets. These questions on human-animal interaction have drawn little attention."
The research team's goal is to use these data to determine if, how and under what circumstances companion animals benefit older people.
"We know that an animal can be a social facilitator," said Sachs-Ericsson, a scientist/scholar in the Department of Psychology. "People like pets — think of all the times someone has stopped to talk when you are out walking your dog — and pets can be a bridge for conversation and interaction. We want to pursue this idea further. Are these pet-triggered social interactions significant? Do they ease the loneliness and improve the lives of older individuals? Importantly, we also wish to determine if older adults' relationships with their pets significantly contributes to their health and well-being."
Sachs-Ericsson explained that the benefits of companion animals are thought to be related, in great part, to social processes. Theories linking benefits of pets to older adults parallel our theoretical understanding as to how social connectedness among older adults is associated with better health.
The data in the Health and Retirement Survey may provide answers.
"In our study, we will give particular attention to whether a pet is beneficial to those who are socially isolated and have suffered a loss such as the death of a spouse," Carr said.
Carr and Sachs-Ericsson will study four factors to test the hypothesis that a companion animal is beneficial to health in older people, particularly those who are socially isolated and experience a major social loss. They will:
Identify critical factors that predict selecting a companion animal later in life, particularly in relation to health, and to understand the selection processes that may influence the benefits of companion animals on older adults.
Determine if and in what ways human social processes are involved in shaping the relation between companion animals and human health.
Examine the influence of companion animals on health among socially isolated older adults relative to socially integrated older adults who experience a major social loss.
Contribute to a theoretical framework outlining the relationships between human-animal interaction among older adults and human health.
"We will try to generate a model that will help us better understand how social context shapes the relevance of companion animals for a range of health problems later in life, particularly for vulnerable older adults," Sachs-Ericsson said.