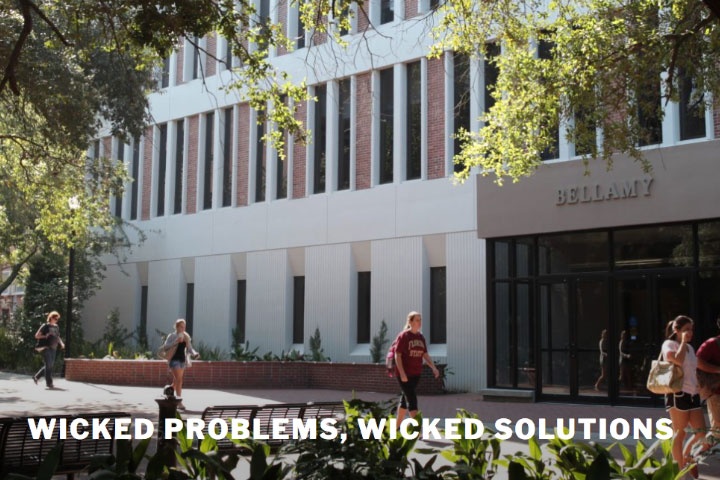 Florida State University's College of Social Sciences and Public Policy has launched a new blog, "Wicked Problems, Wicked Solutions," a forum for the college's faculty and students to talk about their research and teaching regarding the many challenges faced by contemporary society.
Wicked problems, such as climate change and social injustice, are very difficult issues to solve because they are highly complex, with no readily apparent solution. The problems are often intricately interconnected with other issues entrenched in the political arena, culture and environment and, consequently, affect the lives of millions of everyday people in real time.
"Our aim is to educate the reader, advance knowledge and start a dialogue in the hopes of making the world's problems a little less wicked and a little more tame," said Tim Chapin, dean of the college. "Blog entries will present some of the outstanding work of the college on society's most pressing issues, showcasing the scholarship, teaching and community engagement flowing out of our programs."
The blog's title was inspired by the work of two social scientists in the 1970s, Horst Rittel and Mel Webber, who made a distinction between the "tame problems" of the hard sciences versus the "wicked problems" that plague the social sciences — social and policy issues that cannot be solved through engineering, science and funding alone.
Faculty, graduate and undergraduate students in academic programs such as political science, sociology, geography, public health and emergency management will author blog posts. Representatives from the college's centers and institutes, such as the Center for Demography and Population Health, the LeRoy Collins Institute, the DeVoe L. Moore Center and the Pepper Institute on Aging and Public Policy also will contribute.
"We are really excited to provide a platform that highlights the diversity of our faculty and their research," said Associate Dean for Faculty Development and Community Engagement Deana Rohlinger, who developed the blog idea. "We see the blog as a way to engage our alumni and the community in a conversation about how social sciences inform everything from a state's hurricane response to its legislation."
Initial posts on the blog include a piece on threats to maternal and reproductive health by Assistant Professor of Sociology Miranda Waggoner, an article about how Hurricane Irma highlighted the need for better aging services in Florida by Pepper Institute Director Anne Barrett and Pepper Center Director Larry Polivka and a piece on food insecurity by William Whitmire, a political science student.
The college encourages readers to comment on blog posts and share them on social media. Visit "Wicked Problems, Wicked Solutions" at https://wicked-solutions.blog.