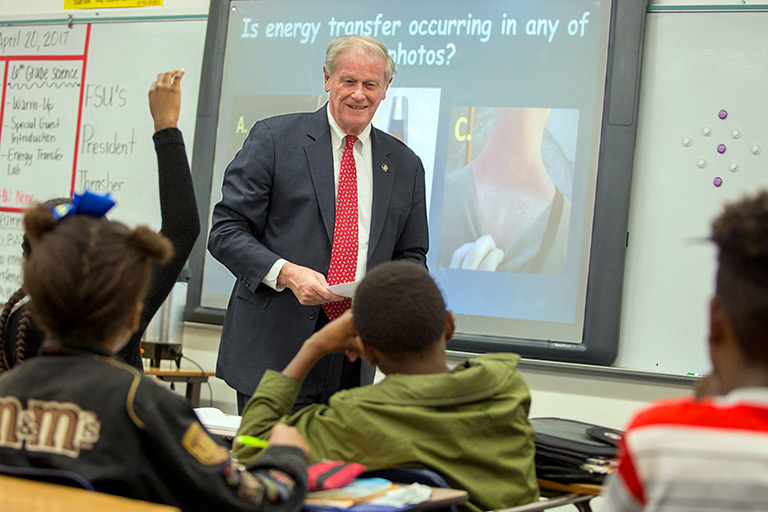 Florida State University President John Thrasher donned a middle school teacher's hat as he stepped to the front of a sixth-grade class to teach a science lesson on convection.
Thrasher taught the class at Fairview Middle School in Tallahassee Thursday to recognize the continuing success of the FSU-Teach program, which encourages science and math students to become secondary school teachers. The program was created in 2008 to help address a growing shortage of high-quality science and math teachers, not only in Florida but across the nation.
"Is there anything in these pictures where energy is being transferred?" Thrasher asked the students as he pointed to a large smartboard displaying images of a metal spoon in a glass of boiling water, a lava lamp and a child with a sunburned back.
Keona's hand shot up in the front row. She was sure the lava lamp was one of the right answers.
"Because when you plug in the lamp," Keona explained, "the electricity is creating energy and heat and making the liquid move up and down."
"That's a great answer," Thrasher praised. "Absolutely."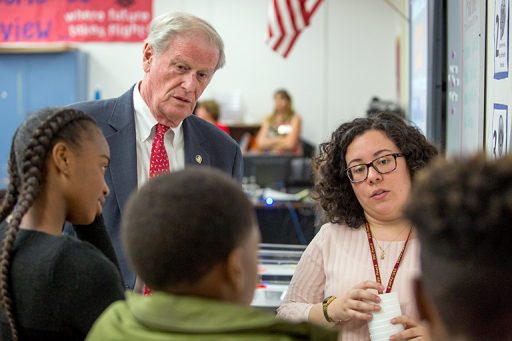 Nancy Narvaez, a sixth and eighth grade science teacher, graduated from the FSU-Teach program just a year ago and quickly established herself as a rock star among her students and colleagues at Fairview Middle School.
She probably could have found a higher-paying job in the private sector, but her student-teaching experiences through FSU-Teach confirmed where her heart was when it came to choosing a career.
"I love science, and I love teaching science," Narvaez said. "I want to inspire younger generations of students to become scientists. So, I may not be in the private sector, but I might be able to help create new scientists in future generations."
FSU-Teach is modeled after a program created 20 years ago at the University of Texas-Austin. The program allows students to earn a STEM or education degree and full teaching certification with no additional hours required.
FSU-Teach also offers valuable incentives to its students, including all costs of tuition, books and fees for the two introductory teaching courses; grants ranging from $4,000 to $10,000 during college; scholarships through FSU's College of Education; and paid internships for members of the program.
Many FSU-Teach students are eligible for incentives after graduation, too. That reality has helped narrow the gap between salaries in public schools and the private sector. The average yearly salary of an FSU graduate 10 months after earning the degree was $46,500 in 2014.
Narvaez, who originally came to FSU planning to become a meteorologist, is grateful that she had access to the FSU-Teach program offered through a collaboration between the College of Education and the College of Arts and Sciences.
"I was able to get an education degree and also do my science classes," Narvaez said. "I love science and was able to do both at the same time. I've had the privilege to work with mentors who provided feedback when you're in the classroom. That was a big factor for me and so were the scholarship opportunities from FSU-Teach. They provide a scholarship for students interested in teaching in high-need schools, and I was able to get that scholarship."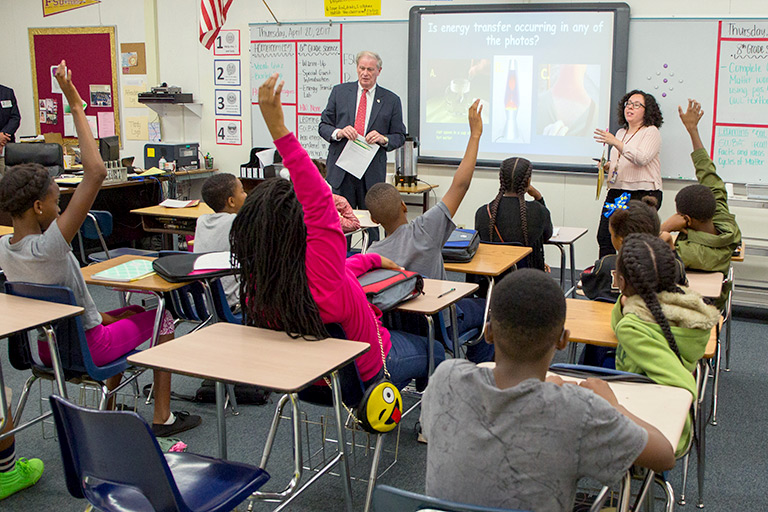 Narvaez is one of 110 graduates of the FSU-Teach program helping meet a critical demand for STEM teachers and finding lots of opportunities in education. Ninety-six percent of the program's graduates land teaching jobs within a year of graduating.
With a success story like that, President Thrasher was glad to co-teach with Narvaez on this day to shine a spotlight on teachers like her.
"I'm so proud of our teachers who have graduated from our program and are actually in these schools making a difference," Thrasher said. "I'm proud of our teachers and proud of the schools hiring them."