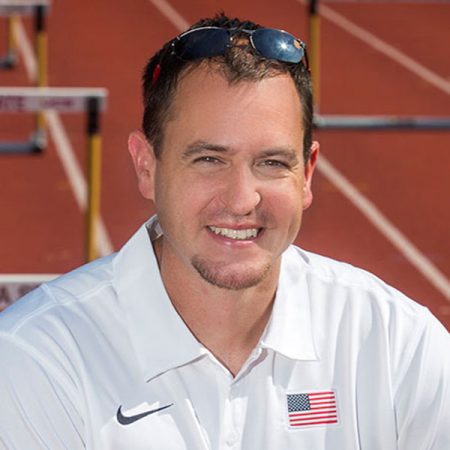 Elite athletes know that sometimes mastering the mental aspect of the game can be the difference between the thrill of victory and the agony of defeat.
Chris Stanley — a researcher at Florida State University's Florida Center for Reading Research — is hoping to give athletes that winning mental edge as one of two sport psychologists for the USA Track and Field team at the U20 World Junior Championships from July 19 to July 24 in Bydgoszcz, Poland.
Stanley, who also serves as an adjunct faculty member for FSU's sport psychology program, is thrilled to be a part of USATF's medical support staff for one of the world's most important competitions in the sport of track and field.
"These are young athletes — older adolescents and emerging adults," Stanley said. "This is a significant milestone for them and there are a lot of psychosocial aspects that need to be monitored. The sport psychologists are there to help them be aware of these things and the challenges that may arise and impact their performance, positively or negatively."
A former track student-athlete and assistant coach at the University of Illinois-Chicago, Stanley uses his sports background along with his training in the field to relate to the athletes. He also served as a volunteer assistant coach for Florida A&M University while he was pursuing his master's degree in sport psychology at FSU.
"(Track and field is) a very familiar setting for me and I like that level of comfort to be something I can transfer to the athletes," Stanley said.
Stanley, who earned his doctorate in developmental psychology from Loyola University in Chicago, is certified by the Association for Applied Sport Psychology and is on the U.S. Olympic Committee registry of sport psychology practitioners.
His undergraduate mentor at UIC, Gloria Balague, is now director of sport psychology for the USATF, and she encouraged him to get involved with the organization. He was delighted to be offered an opportunity that only a handful of sport psychologists have experienced.
"I think I got even more excited when some of my apparel showed up," Stanley said. "UPS delivered this bag full of USATF apparel, and the instructions demanded that I try it on to make sure it fit. It became a little more real you know at that point."
The World Junior Championships will be Stanley's first international competition with the USATF, although he has served as the resident sport psychologist while on the faculty at Winston-Salem State University and Florida Gulf Coast University.
"There are a variety of items that could arise in relation to mental skills and performance with athletes," Stanley said. "We're there to support them whether it comes to motivation, arousal management, concentration, team cohesion issues or communication with teammates or coaches."
Stanley compares competing at a high-level meet like the World Junior Championships to experiencing the stress of a high-pressure situation any person can relate — like taking a new job or attending a new school. When athletes have access to a sport psychologist, it enables them to bounce ideas off a third-party and develop the best way to work through the impending challenge.
"Sport psychologists are often in the position of making a plan with athletes for how they're going to handle stress, cope with changes and how they're going to manage their emotions and excitement," Stanley said. "I think sport psychologists have an important role in helping athletes accurately perceive the event or challenge, and also helping them conceptualize ways to cope and adapt with it."
Stanley believes the experience in Poland will make him a better teacher, mentor and sport psychologist.
"I'm already thinking about how am I going to be able to use this experience to leverage greater success for my students or other athletes and clients," Stanley said.
And while his research at FCRR is not focused on sports, he is involved in a project about a growth mindset versus fixed mindset and how that affects future academic achievement.
"It's very important in an educational context for children to believe as they approach new tasks that they have a basic mindset that their effort can cause change and facilitate their development and growth," Stanley said. "You can also see how that neatly translates to an athletic domain. It has very meaningful implications for developing athletes and for the language we use around athletes in terms of emphasizing effort and growth."
In addition to Stanley's support role at the meet, three athletes with ties to Florida State will compete in Poland. Armani Wallace (triple jump) will represent the United States, and Shaquania Dorsett (400 meters) will represent the Bahamas. Both recently completed their freshman year at FSU. Shanice Love, an incoming freshman, will compete in the discus for Jamaica.