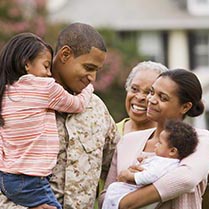 Through a partnership between the Florida State University College of Social Work and the Rosalynn Carter Institute for Caregiving, Operation Family Caregiver (OFC) has opened a home base on the FSU campus to offer free, confidential services to caregivers of military veterans and service members in Tallahassee and throughout the Southeast.
The services will be provided by Caregiver Coach Wendy Turney under supervision of OFC Program Manager Margaret Ashmore.
"We are proud and excited about this important collaboration with the Rosalynn Carter Institute," said Jim Clark, dean of the College of Social Work. "Military caregivers deserve support and expertise as they care for their loved ones, often under extremely stressful circumstances."
The College of Social Work will host a luncheon for caregivers on Friday, Nov. 6, to celebrate the launch of OFC at FSU. The luncheon also will provide an opportunity for interested caregivers to learn more about the program. For information about the luncheon and the OFC program, contact Turney or visit http://csw.fsu.edu/service/ofc/.
OFC is a proven, evidence-based program that provides support to the families of newly returning service members and veterans. It is free, confidential and tailored to each individual family. It is the only program of its kind serving military families. Since 2001, the United States has sent more than 2.5 million men and women to Iraq and Afghanistan, and more than 50,000 have been wounded. Beyond visible injuries, nearly one-third of returning service members have a mental health condition or have experienced a traumatic brain injury.
Military caregivers can be a spouse or partner, immediate or extended family, a friend or a neighbor, or anyone providing aid or care to veterans and service members. Turney's role as caregiver coach enables her to work with caregivers to help them develop coping strategies and problem solving skills through obstacles and times of transition.
"Services are tailored to individual caregivers," Turney said. "Over a 16- to 24-week period, I meet with caregivers in their homes, in my office on FSU's main campus in Tallahassee or through Skype. Additionally, I follow up with caregivers by phone calls. As a trained OFC coach, I provide support and strategies to our military caregivers in hope to improve caregivers' quality of life as they care for and support their loved ones."
OFC launched in 2012 with funding from Johnson & Johnson. After an initial pilot launch, it has expanded in each subsequent year and will be serving military families in 12 locations by the beginning of next year, including Florida. Turney offers these services to caregivers throughout the Southeastern region.
Since its launch, OFC has helped more than 150 caregivers from across the country. Caregivers who have completed the program report being less depressed and more satisfied with their lives, have fewer health complaints and are generally more prepared to take care of their families.
"We know the program works, and we are thrilled to make it available to more families," said Leisa Easom, executive director of the Rosalynn Carter Institute.